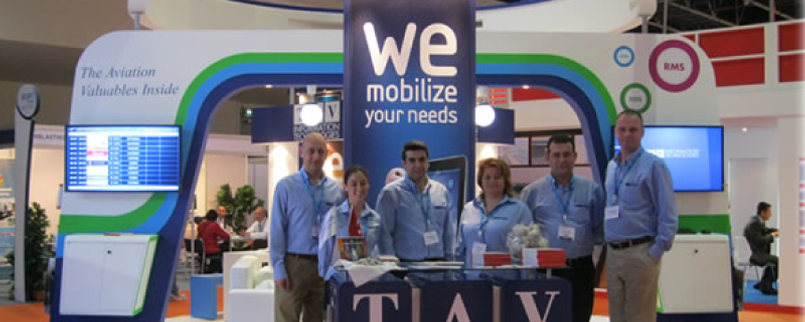 As TAV IT Services, we took our place at the "Dubai Airport Show 2012" which is held between May 22-24 in Dubai. Our company has taken important steps through a range of products and services it offers and attracted great interest from the visitors at Dubai Airport Show 2012 which is held for the 12th time this year.
The show which is a leading event for the entire aviation industry particularly in the Middle East brought many institutions and companies operating in the industry together, providing a platform for the state-of-the-art products to be showcased. Our company which makes fast progress in IT sector by expanding its product line and developing turnkey solutions on airport systems introduced its corporate identity and we had the opportunity to present our visitors a live implementation of the newly developed "Passenger Information System" Project at "Dubai Airport Show 2012".
Binnur Güleryüz Onaran, Managing Director of TAV IT Services states, "The application has received positive reactions from the participants and is expected to be utilized initially at Istanbul Ataturk Airport - which will be followed by other airports over time. Within our aim to implement the project, we want to ensure customer satisfaction by enabling them to spend more quality time at the terminals and making airports less complex."
"Dubai Airport Show 2012" plays an important role in presenting the innovations of the sector and brings thousands of consumers together with a number of sector professionals operating in the aviation industry, providing a platform for suppliers, constructing firms, security companies and technology providers to introduce their products and services to consumers.
Offering turn-key solutions in line with the standards of the International Air Transport Association (IATA), our company renders services for all processes from the infrastructure design and installation to putting into operation and post-sales support; providing aviation software product development, 24/7 support, call center, maintenance and repair center, parking lot solutions, process consulting for logistics and financial processes performed over ERP; and implementation assistance. Our company has implemented 118 projects across the world with a broad range of products in use at a total number of 20 airports.