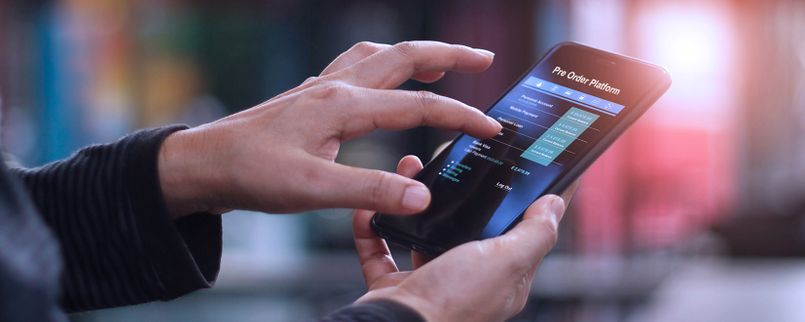 People are now willing to benefit from digital solutions to ease their life whenever they want and where ever they go. Regardless of industry, digital convenience offers limitless opportunities in every area for the specific needs of individuals and companies. Airports certainly are not away from this current trend.

TAV Technologies PreOrder Management Platform helps airports to increase their non-aeronautical revenues at restaurants and cafes located at airports through a web-based, real-time food and beverage order technology for the passengers.

Customers can swiftly choose their food from the online menu before they arrive at the airports or during check-in process at the airport. They can make their payments through in-app payment system without a physical connection at cash points. Thus, user engagement increases and in-app spending is encouraged. Furthermore, passengers can select the specified airport area that has been listed in the mobile app to pick up their orders if they do not prefer to visit restaurants and cafes.

Restaurants and cafes can easily check their pre-orders any time, anywhere from mobile devices and computers. They make the orders ready on time and deliver to the designated area at the airport. The platform hereby provides a unique experience for the passengers and increases their satisfaction, while avoiding the queues in front of the cashpoints.
TAV Technologies PreOrder Management Platform offers real-time dashboards for monitoring restaurant menus and gives statistical details about visitors' actions. This dashboard is a single unit to manage all the restaurants and cafes under the preOrder platform. The users can analyze changes and transactions within the system through the admin panel and optimize their businesses. The restaurants/cafes can advertise their promotional activities through the system, attract new clients and increase their revenues.
This system includes;

1.PreOrder Mobile Application
PreOrder Mobile application facilitates the process for passengers to select their shopping items and make their payments from their mobile devices in a secure way.
2.Retailer Mobile Application
Retailer mobile application offers multiple functions for restaurants and cafes to list their menus, follow and manage the orders with 3 different functionalities:
-Order Validate QR: Retailers can scan the QR code that has been displayed at the pre-order mobile application to identify orders and customers without an oversight. After each successful payment, the system creates a unique QR code that automatically brings convenience and security for both parties.
-All Orders: Retailers can see the full list of all active orders of their restaurant.
-Assigned Orders: Employees of the restaurants can see the orders related to their roles.
3.PreOrder Content Management System:
PreOrder Content Management System is a web-based application specifically designed for business owners and their needs. Retailers can change the list of foods and beverages easily by using the content management system. Any change on the menu is automatically transferred to all screens on mobile apps. Details about ingredients, allergenic foods and descriptions can be displayed to help customers while picking a dish from the list. Retailers can also lead their marketing activities, promote certain categories or foods.
Key Features and Benefits:
-Decreased human interaction
-Shorter queues at retailer areas
-Enhanced passenger experience
-In-app promotions & advertising
-Easy order selection
-Easy payment
-Increased security with QR code pairing