Our Vision

Becoming a worldwide key player in providing end-to-end technology solutions and services using our unique experience in sophisticated and complex environments.
Our Mission
Create innovative, reliable, and flexible technology products and services that are continuously evolving to challenge the market and to guarantee seamless stakeholder satisfaction.
Our Values
Happy employee = Happy Customer
Customer-oriented
Flexibility and Adoptability
Teamwork
Dynamis
Innovative and explorer spirited
Agile
Professional
Multi-Cultural

As Your Visionary Technology Solution Partner;
We provide total technology management and deliver best-in-class designs & solutions with a high customer focus. The company covers all three main streams of information technologies in one company; in-house software product development, contractor for complex ICT projects and IT operations management & consultancy.

Its Smart Airport concept creates a high satisfactory experience for passengers, airlines and airports by taking full advantage of the latest technologies and innovations.

TAV Technologies provides support with next-generation technologies, offering user-friendly, innovative solutions it develops in its Research-Development Center and Innovation Hub. With its innovation center, TAV Technologies prioritizes continuous innovation, shaping cutting-edge technologies and digital transformation to offer passengers the best experience. The Innovation Center was established to provide an environment for TAV Group companies, to exhibit and develop their products, services, and competencies within the theme of airport operations and passenger experience. Designed to simulate an end-to-end airport IT ecosystem TAV Innovation Centre is an environment for implementing innovative technologies and providing the best passenger experience at airports.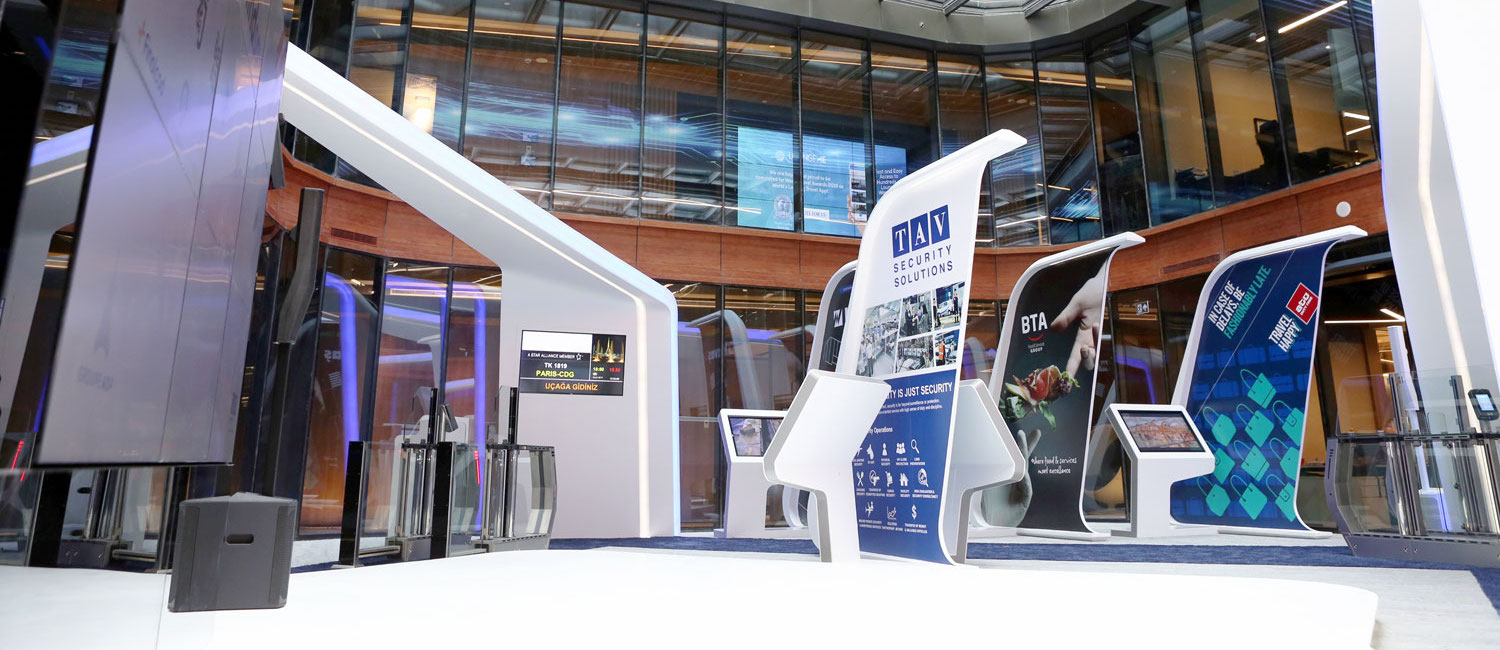 A Leading Integrator Company in Aviation Industry: TAV Technologies
While providing support in complex operations of airport management, which require a high amount of experience, TAV Technologies aims to continue improving its service quality and reduce costs with a team of seasoned experts in the field of IT.

One of the pioneering companies in the industry, TAV Technologies' 15 years of experience in airport management systems and applications have equipped it well to develop turn-key integrated solutions for airport infrastructure systems and increase efficiency by re-defining processes whenever necessary.

TAV Technologies, with a wide service and product range, from analysis to design, from consultancy to support and maintenance, provides turn-key solutions for new airport projects. TAV Technologies achieves fast and quality service levels for its customers without operational interruption during deployment or development for an existing airport.

TAV Technologies' products and services are used in many airports; among which are Istanbul Atatürk Airport, Ankara Esenboga Airport, Izmir Adnan Menderes Airport, are operated by TAV Airports Holding, and international airports such as Tbilisi and Batumi of Georgia, Monastir Habib Bourguiba and Enfidha-Hammamet Airports of Tunisia, Skopje Alexander the Great and Ohrid St. Paul the Apostle International Airport of Macedonia.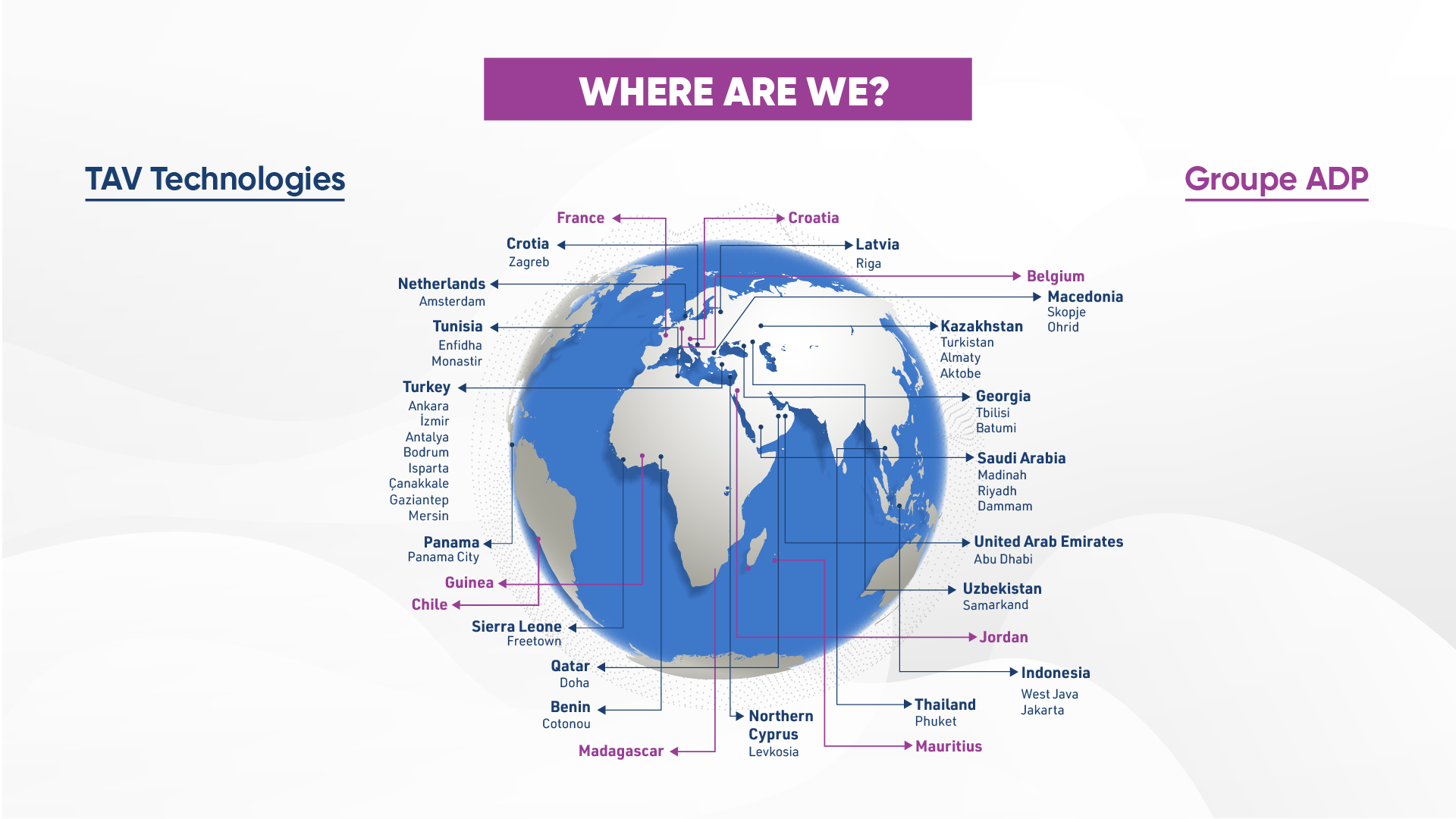 Integrated Services Powered by Continuing Technological Innovation
Closely following technological developments and innovations, TAV Technologies uses the next-generation B2B messaging system of the IATA XML Workgroup (XMLWG) and the standards of its portfolio; develops integrated applications and provides a long-term and advantageous system infrastructure to airport operators via applications that minimize operational costs with continuously improving features.

TAV Technologies provides 24/7 support to the airports with specialized technical staff who draw on 10 years of experience in the aviation industry and offer local and international consultancy services. TAV Technologies provides services at internationally accepted ITIL, COBIT and ISO standards and has a business partnership with ORACLE, one of the leading companies in the industry.

TAV Technologies uses the e-business applications of ORACLE at the airport & service companies of TAV Airports. TAV Technologies provides consultancy services for ERP applications related to financial applications, logistics, and human resources within TAV onto the e-business applications of Oracle, ensuring the standardization of operational methods and reporting infrastructures in addition to process consultancy, system installation and integration projects.

TAV Technologies' integrated structure deploys and manages any system and integration in the aviation field with its teams; consisting of Data Storage, Unix and Database Consultancy Services, System and Infrastructure Services, IT and Aviation Systems Consultancy Services and Enterprise Resource Planning Consultancy Services departments.