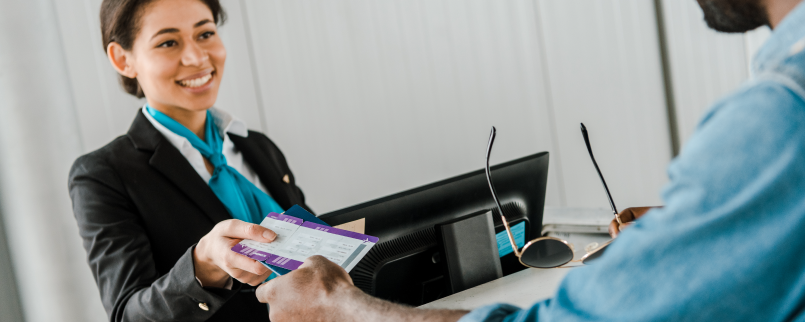 What is Common Use Passenger Processing System (CUPPS)?

Common Use Passenger Processing System (CUPPS) is a globally accepted standard introduced by the International Air Transport Association (IATA) which describes the range of services, specifications, and standards enacted to enable multiple airlines, service providers, or other users to share physical check-in or gate podium positions whether simultaneously or consecutively. In tradition, each airline would have its specific check-in desks and technical systems, whereas, with CUPPS, the airlines and other airport stakeholders easily share the same equipment.

Benefits of Common Use Passenger Processing System (CUPPS) at Airports

Considering the evolving needs in air travel, there are several concerns for airports regarding security, capacity&time management, and operation costs. It is highly beneficial to offer a seamless passenger experience with secure and affordable solutions.
Common use technology plays a crucial role in overcoming these challenges with shared use of airport facilities approach and integrated applications that bring flexibility for stakeholders. Airports, airlines, and ground handlers can benefit from reducing operational and capital expenditure by using common-use systems.

TAV Technologies CUPPS

Check-in desks, gates, and all peripherals can be shared among multiple airlines while maximizing the efficient use of airport resources with TAV Technologies CUPPS. Airline applications can be deployed and accessed by authorized users on the platform with a standard methodology, in line with the latest IATA CUPPS specifications. Thus, airports do not need to customize the application for each vendor separately.
Stakeholders can share the following machines and systems through TAV Technologies CUPPS:

Check-in position
Boarding position
2D Boarding pass printers
Boarding pass readers,
MSR readers
OCR readers
TAV Technologies CUPPS platform is IATA CUPPS-compliant and certified to the latest available CUPPS technical specifications.TAV Technologies also offers rigorous testing and certification process for airline applications in TAV Technologies Labs that want to receive official CUPPS certification.

Benefits of TAV Technologies CUPPS

Multiple airlines share the same workstations and peripherals to improve and maximize the efficient use of airport resources. CUPPS directly helps save space in airports while eliminating the need to build various check-in desks for airlines. Moreover, it also reduces operating costs and capital expenditure for airlines, airports, and ground handling services.

Reduced operational cost with shared hardware equipment & IT maintenance
Higher passenger satisfaction
Satisfied airlines with secure solutions
Multi-airport, multi-airline, and multi-ground handler solution
Adaptable to any size of an airport
Energy saving
Key Features of TAV Tecnologies CUPPS

Certified with the latest CUPPS specification (v.1.01, v.1.03)
Fully backward compatible with legacy common use systems (CUTE)
Open architecture for all CUPPS compliant airline applications
Web-based configuration, administration, and management
Human-centric modern responsive design that allows mobile usage
Remote administration and deployment capabilities
Real-time monitoring and reporting
Integrated auto incident ticket creation for help-desks
Performance monitoring and management
Common-Use Passenger Processing System Frequently Asked Questions
Here are the answers to frequently asked questions of airport CUPPS solution:
Q1.What are the key features of a CUPPS?
The key features of a Common Use Passenger Processing System (CUPPS) include the ability to process passenger check-ins, handle boarding passes and baggage tags, and provide access to airline-specific applications and services. CUPPS systems are designed to be flexible and adaptable, allowing multiple airlines to use the same system and share resources and infrastructure.
Q2.How does a CUPPS handle multi-airline operations?
A CUPPS system is designed to handle multi-airline operations by providing a common platform for all airlines. Each airline has unique applications and services that can be accessed through the system. Still, all these applications are integrated into a single interface that can be used by all airlines. This helps reduce the complexity of airport operations and ensures that passengers have a consistent experience regardless of which airline they are flying with.
Q3.What are the features of CUPPS?
CUPPS includes several features that enhance passenger processing operations, including:
Standardized messaging protocols and interfaces
Integration with various airport and airline systems
Real-time data exchange and communication
Remote management and monitoring capabilities
Customizable user interfaces for airlines and airports