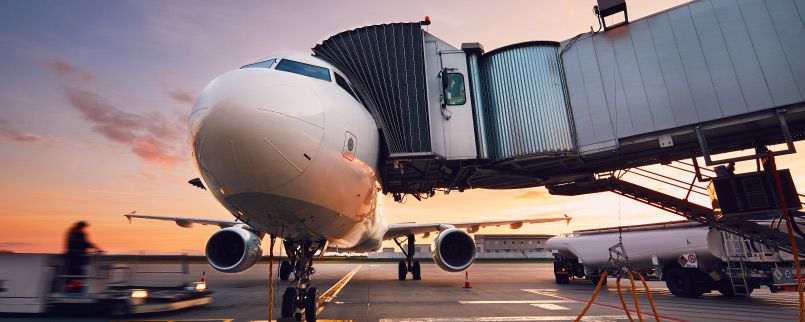 What is Resource Management System (RMS)?
Resource Management System (RMS) is a software-based solution designed to manage and allocate various resources used for airport operations. Resource Management System aims to achieve resource utilization while considering timely planning for each resource type.

What are Basic Airport Resources?
Gates
Aircraft Stands
Check-in Desk
Carousel
Chute
Remote Stands
Bus Gates
Baggage Lateral
Benefits of Airport Resource Management System (RMS)
Air travel continues to be more complex year by year, so effective planning of operations is critical for airports. Airports have limited resources that have to be managed efficiently to maximize the benefit taken from each resource. It is crucial to provide the optimum assignment for each. Any delay or disruption due to lack of resource availability harms operational flow and passenger experience directly. Resource Management System enables efficient use of airport resources through better planning and optimum use of resources thus, improving the passenger experience.

TAV Technologies Resource Management System (RMS)
TAV Technologies RMS, which is also named as Resource Optimization and Tracking Application, is the key for effective planning of the operations at an airport.
TAV Technologies RMS includes the following modules that can be installed either as a whole or on an individual, modular basis:
Stand and Gate Management
Check-in Desk Management
Carousel Management
Chute Management
The system was designed to dramatically increase the level of service and enable airport operators and authorities to manage resources throughout the airport, thanks to a long-term academic collaboration that makes use of extensive mathematical modeling and optimization algorithms.

Benefits of TAV Technologies RMS
TAV Technologies RMS reduces manual work and increases efficiency throughout the airport. The system's advanced multi-KPI-based algorithm allows airports to maximize the utilization of higher-value resources and enables smoother operational planning with its advanced integration capabilities. The system also increases operational productivity, delivering higher levels of passenger and airline satisfaction
TAV Technologies RMS's advanced architecture allows operators to plan and manage more than one airports' resources from a single interface.
Optimized Resource Allocation
Revolutionary multi KPI optimization algorithm provides best-fit solution helping airports to achieve efficiency based on their configured rules and weightings.
The system offers easy access through the web-based application offering availability anytime from any platform.
RMS's numerous implementations with business rules and processes for both daily and seasonal operational planning periods provide operators with improved adherence to SLAs.
The solution runs and provides reliable data across all systems.

Key Features of RMS
TAV Technologies RMS is equipped with various features which are designed through the latest technology according to operational needs and expectations.
Seasonal and operational resource allocation
Gantt Chart based allocation plan, display of activities on the timeline
Aerial view of operation at apron by timeframe
Advanced rule engine and configuration management
Advanced conflict management and intelligent resource adjustment
Real-time automated scheduling
Advanced optimization algorithm
Easily adaptable resource profile constraint definition
Planned or mandatory ad-hoc maintenance management
Easy integration with existing or legacy systems with its open architecture
Increases level of services throughout the airport
Data integration with other systems through the ESB/MW interface
Stand-alone operation with full functionality in case of a connection failure, and synchronization of data once the connection is resumed
Compliant with IATA, ICAO, and other industry-related standards
Multi-language support
Log management
Built-in reporting facilities
The customizable user interface of RMS provides perfect situational awareness with customizable color-coded resources and flights based on predefined rules and configurations.
RMS's advanced algorithm offers an integrated "What-If Scenario" planning feature that runs alternative scenarios with different rule sets, providing operators with possible bottlenecks and capacity predictions.
TAV Technologies RMS Core Optimization Engine
TAV Technologies RMS core engine is based on the advanced optimization capabilities which are based on Big Bang-Big Crunch Optimization algorithm. The optimization algorithm of the system is developed in cooperation with prestigious academic partners (Istanbul Technical University, and the Scientific and Technological Research Council of Turkey; TUBITAK) using extensive mathematical modeling and optimization algorithms.
The optimization algorithm can maximize the utilization of resources based on the business requirements to increase revenue generation and customer satisfaction.

TAV Technologies RMS Advanced Rule Management

The system provides a rule management functionality to ensure all operations are met with the allocation. Soft and hard rules can be defined within the system based on numerous criteria (operational capabilities, financial rules, preferences, etc.).
The rules can be prioritized by weighting them, and the optimizer takes defined rules and weightings into account to offer the best fit solution.

TAV Technologies Graphical Interface
The advanced GUI features of TAV Technologies RMS support users in their decision-making processes. Informative visual indicators, easy-to-notice warnings, and color-coded resources and flights based on rules and configurations guide users to find the best solution quickly in time-critical operational cases. The system provides an intuitive Gannt user interface and Aerial View of operation at apron by timeframe.