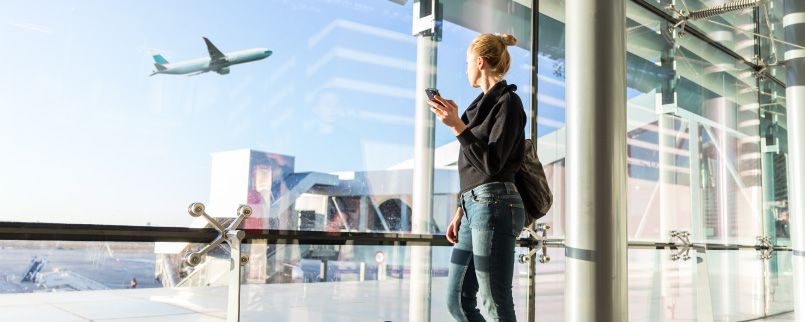 What is Mobile Application?
A mobile application, widely known as an app, is a kind of application software designed to run on a mobile phone, for instance, a smartphone or tablet PC.
Mobile application needs a network connection to work with remote computing resources. Thus, developing a mobile app requires creating installable software bundles such as code, binaries, and assets. Plus, the app developing process includes the implementation of backend services like data access with an API, and testing the features of the mobile app on target devices.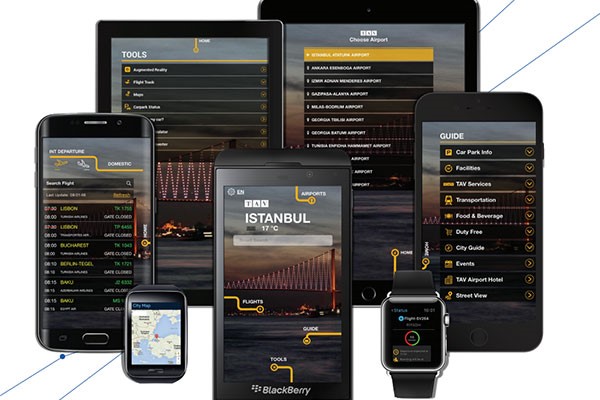 What are Mobile Application Types?
There are three types of mobile applications which use different formats.

Web-Based App: These apps can run solely on the browser.
Native App: These apps are specifically created for a certain platform namely Android or İOS. Different programming languages are used for each platform.
Hybrid App: It is a software application that combines elements of both native apps and web applications. Hybrid mobile applications are built with standard web technologies - such as JavaScript, CSS, and HTML5

Benefits of Mobile Apps
There is a tremendous demand for mobile apps among the majority of companies with various objectives like loyalty-building, task resolution, entertainment, and customer service management. Mobile apps have various benefits as the following:

Providing value to customers with ease of use and convenience
Supporting brand image
Improving customer loyalty with special offers designed for mobile app usage
Engaging with the customer directly through personalized offerings
Supporting customer services
Receiving direct feedback
TAV Technologies Mobile

TAV Mobile supports multiple airports simultaneously with its user-friendly interface. It offers a range of information regarding flights such as:

Arrival
Departure
Delays
Cancellations
Gates
Baggage

Advanced features of TAV Mobile such as augmented reality, indoor navigation, and interactive smart zone with extensive content provide better travel planning for passengers. The modern interface offers changeable backgrounds, parallax backgrounds, swiping gestures for users.

Benefits of TAV Technologies Mobile

TAV Mobile provides several benefits for airports and passengers with its modern design.

Improved passenger engagement with interactivity
Enhanced passenger experience and engagement
Relevant information for the passengers
Real-time discounts, promotions, and coupons
New opportunities for upsells
Increased customer loyalty
Increased commercial turnover and profitability with proximity marketing
A multi-lingual solution
Features of TAV Technologies Mobile

1. Smart Watches for Apple and Android

TAV Mobile app supports smartwatches for Android and Apple. Watch applications work compatible with the mobile app. It provides information regarding any changes about flights via push notifications. Thus, passengers can follow their flights easily without checking their mobile devices. Also, it offers details about the car park status. It provides weather information for selected flights and information over the map to passengers.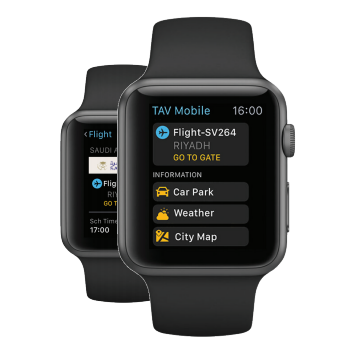 2.Smart Search
Every day new devices are arriving at the market with innovative features, thanks to growing technology. The evolution of technology with new devices has made our lives simpler. SMART TV is one of the results of the most robust evolution, displaying live flight tracking with the current state on your Apple TV or Samsung Smart TV in your home, office — or anywhere. SMART TV requires no custom hardware and no maintenance to continuously provide you with the information.


3.Smart FIDS

SMART FIDS enables passengers to encounter different experiences about their flights. It brings the digital screens at the airport together into one airport-wide signage solution and makes passenger communication smart and personal. It allows passengers to see their flight in detail when they enter the zone.
Passengers who have TAV Mobile app can have a personalized experience with Smart FIDS. When the passenger enters the Smart FIDS zone, they will see their current flight on the screen and see detailed information about their itinerary. Smart FIDS serves passengers functions such as finding a way, flight information control, baggage collection, special offers, conveying duty-free promotions, and informing passengers regarding how much time is left for their flight. Smart FIDS uses beacon technology and increases commercial turnover and profitability of your operations by effective usage of proximity marketing.

4.Personalization

Personalization has been an excellent feature to establish a strong relationship with each passenger. With the latest version, passengers can be logged in to TAV Mobile to take advantage of exclusive offers and see their flight histories with details such as flight date, total distance and total hours on air, weather information for the destination location. Also, passengers can receive personalized push notifications about their current flight state and special offers. It meets the rising passenger expectations through seamless experience and better functionality.

5.City Guide, Special Offer, Shopping, Transportation

Information about the most popular malls, museums, and restaurants in the final destination.
Transportation information to downtown by bus, taxi and rent a car.
Integration with Social Media
Car park reminder function to find your car easily in parking areas upon your return
Calculate your car park fee with your fingertips
Currency converter function
Up-to-date Special offers information
Real-time car parking space availability status
Full list of food & Beverage, duty-free, lounges, banks, exchange offices, rent a car, tax-free office,
Airlines ticket sale office and lost baggage office information
Keep your airport guide in your pocket with indoor navigation maps
Advertisement function compatible with remote notifications and iBeacon technology
Increased customer satisfaction with customer surveys on TAV Mobile application


6.Flight Info, Flight Alert, and Push Notification
Passenger can manage their time effectively by being informed immediately about the departure and arrival times of the domestic/international flights. Also, they can add their flight as an alert to be informed about recent status by push notification.

Live flight updates on arrivals and departures for single or multiple terminals of the selected airport
Real-time flight tracker
Display real-time weather forecast and sunset & sunrise timing for the selected flight
Include some tips for passengers to reach their flight easily based on the flight remark
7.3D Touch for IOS

The integrated 3D Touch feature allows passengers to navigate on the application faster than ever. TAV Mobile includes four different home screen actions; Airports, Flights, Tools, and Guides.

8.Spotlight Search

The feature gives passengers the best search experience and increases engagement with our application on iPhone and iPad.

9.Support Android Widget

The feature enables passengers to monitor their flight status from the Home&Lock screen by using TAV Mobile Widget.
A variety of tools that you need in your home screen about your flight with a simple and user-friendly design.
Useful characteristics including flight number, latest updates, and airport logo on the list
Provide an easy way to remove flight with control buttons.

10.Augmented Reality

An augmented reality system generates a composite view for the user that is a combination of the real-life scene and a virtual scene with additional information.

Passengers can scan their surroundings with the device camera; the augmented reality mode illustrates points of interest in the terminal on the screen such as shops, cafes, restaurants, and gates. Plus, it shows how far away they are from the gates. It also allows passengers to see how other users have rated the stores and F&B outlets. Passengers can hold up their phones to get directions to their gate.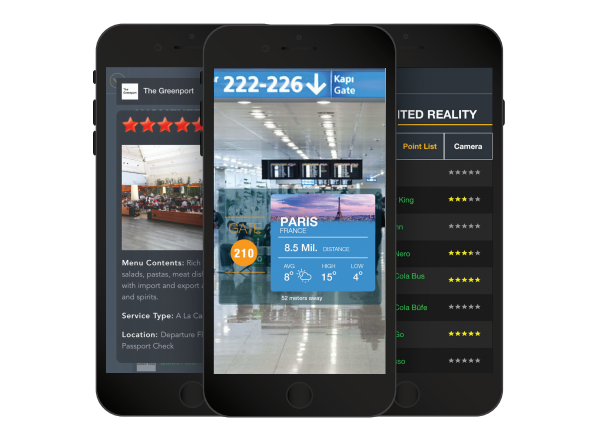 11.Language Assistant (Translator)

The Language Assistant is helpful for passengers who do not know the local language spoken at the airport. The Translator function contains so many helpful words under different categories. The passenger can use the speech assistant on their mobile phones by clicking the voice buttons next to the word. Also, they can see the translated content under words.

12.Location Analytics

The indoor map provides a wide range of location-based services on TAV Mobile app, including proximity advertising, search and way-finding, and location analytics.

Location analytics, which uses advanced data mining techniques tuned to the type of data the iBeacon location provides. It estimates the number of visitors, how much time they spend in your shop or a specific area, and the frequency of their visits, so passengers could make estimations about the population, favorites, trading trends, etc.

13.Analytics Report Integration

TAV Mobile App tracks passenger behaviors. Measuring screen views allows airport employees to evaluate which content is being viewed most by the users, and how passengers are navigating through the pages. Also, it gives details about the passenger's nationality, city and also mobile phone. The app collects month-based data and the system shares meaningful data for airport planning.

14.Campaign Module

After checking in, passengers receive information about their flights such as boarding time and gate number and they will be directed to the right boarding area while being informed about the nearest cafe/restaurant.
When the passenger enters the Duty-Free zone, targeted messages (texts, small images) and online rich media links (video, sound, etc.) can be sent through TAV Mobile App for special offers and upsell opportunities.
Upon landing, passengers receive a lock screen notification about the baggage claim area as well as relevant offers (taxi to the city, accommodations, etc.). Passengers who are waiting in the main terminal also get special offers such as commission-free currency exchange.
TAV Mobile Interactive analytics estimates the number of visitors, how much time people spend in the shop or specific area, and the frequency of passenger visits. Hence, airport operators could make estimates about the popularity of each shopping area, favorite items, trading trends, etc.

You can download the app via App store and Google Play Store.

Airport Mobile Application Frequently Asked Questions
If you want to learn more about airport mobile app systems, you can have a look at the following section:
Q1.What is an Airport Mobile App?

An Airport Mobile App is a mobile application used by airports and airlines to provide passengers with information and services. It can be used for tasks like checking flight status, accessing airport maps and other information, and booking services like parking and airport lounges.

Q2.What are the benefits of using an Airport Mobile App?

Airport Mobile Apps provide several benefits for passengers, including easy access to information and services, reduced wait times, and a more personalized travel experience. They also provide benefits for airports and airlines, including increased revenue from services like parking and airport lounges.