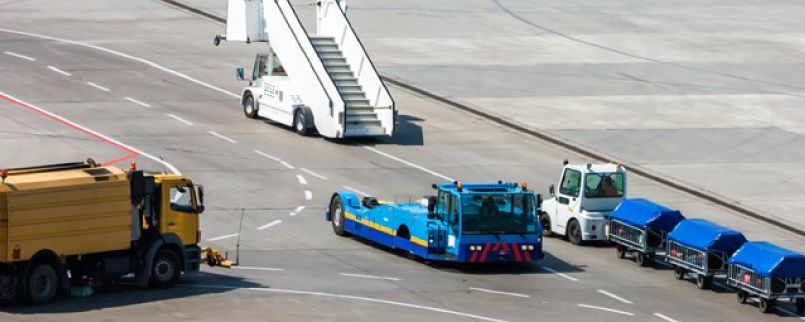 As the share of air transportation increases day by day, the complexity of airport operations in every area deepens correspondingly. It requires a professional methodology to keep passengers and cargo safe as the Ground handling services cover multiple operations at the same time. TAV Technologies Ground Handling Suite (GHS) is what you need to ensure synchronization among all ground handling operations digitally and smoothly with the latest technology. We are highly capable of detecting problem areas and workflows that need to function better owing to our global airport management experience with our various brands operating under TAV.
In dynamic environments such as airports; urgent changes, flight delays or unexpected routings directly affect ground handlers. Our GHS product is effective on both apron and passenger services with its intelligent rule-based conflict resolution modules. The real-time data flow of "GHS" strengthens your capacity planning, resource allocation and employees' decision-making processes.
"GHS" guarantees an easy user experience for your ground handling personnel with its drag and drop interface, gannt chart demonstrations and dynamic graphics. It is applicable both for computers and mobile devices. Thus, employees are free to manage the operation from wherever they want. Plus, related flight and passenger data can be received from other airport management systems through integration among databases. Configurable screens let employees add or ignore data flow according to their needs.
TAV Technologies GHS is designed to save airport operators from manual work as much as possible, thus giving them more time to concentrate on their important duties. Designed to support all critical resource management processes of airports, the TAV Technologies GHS features various modules like roster management, real-time operation, capacity planning, billing, workload generation and reference data management.
Key Features:



Flight Management – track and communicate flight status and requirements

Demand Calculation – ideal planning and forecasting based on business rules

Rostering - Manage shift times, rosters and absences

Real-time Task Management - effective resource allocation and improved productivity

Advanced Optimization Engine – industry-proven real-time optimization algorithm

Conflict Management – best-in-class conflict resolution

Equipment / Vehicle Allocation – optimized usage of mobile and fixed assets

Ramp / Turnaround Management - proactively monitor progress and improve performance

Mobile Apps – streamlined task management, service monitoring and recording

Service Recording - capture everything and improve data quality for accurate billing

Automated Billing – efficient, accurate and timely billing

Dashboards and Reporting - immediate access to real-time Business Intelligence, KPIs, Service Level Agreements metrics

System Integration - Data exchange with external systems (AODB, Roster, Time and Attendance, SAP)
Benefits:



Increased productivity and efficiency of ground handling processes

Reduced operational costs due to optimized allocation of resources

Easy user experience with modern visuals and charts

Excellent planning and scheduling capacity

Flexibility with mobile and desktop options

Avoided missed service recording and billing via integrations and mobile devices

Automatic response to unpredictable situations

Foreseeing bottlenecks within daily operations

Offering advanced service levels to your customers by controlling and enhancing time-relevant tasks

Integrated with other Business Intelligence tools