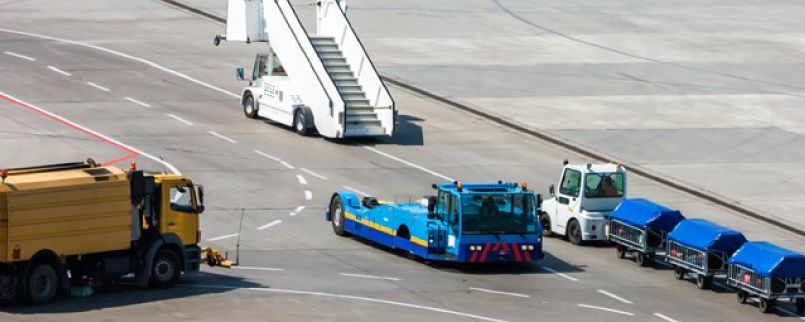 What is Ground Handling Technology?
As the share of air transportation increases, the complexity of airport operations in every area deepens correspondingly. It requires a professional methodology to keep passengers and cargo safe as the Ground handling services cover multiple operations at the same time. Ground handling systems use latest technologies to ease ground handling operations and decrease this complexity.

What are Ground Handling Operations?

In aviation, the term "ground handling" refers to the wide range of operational services provided to facilitate a flight or airplane ground repositioning, preparation for and upon conclusion of a flight which will include both passenger service and ramp service functions. As one of the vital operation areas in airport management, ground handling operations include:

Ramp services
Cabin services
Passenger services
Operation services
Catering Services
Field Operation Services
Baggage Services
Why Do Airports Need Ground Handling Systems?

The ground handling process contains a significant level of risk since operations are carried out in high noise and high traffic areas. Ground handling tasks require various machines and vehicles work in proximity. Personnel needs to work at heights during the loading, catering, and refueling of planes. Moreover, ground handling operation is highly strategic to execute successful airport management, considering its impact on passenger satisfaction.
In dynamic environments such as airports, urgent changes, flight delays or unexpected routings negatively affect ground handling operations. GHS technologies strengthen capacity planning, resource allocation, and airport employees' decision-making processes.

What is TAV Technologies Ground Handling Suite?

TAV Technologies Ground Handling Suite (GHS) is a set of a fully integrated products that covers all operational and business processes, from initial schedule preparations through daily operations & turnaround management, tactical allocations, SLA monitoring to service recording, and automated billing.

Why TAV Technologies Ground Handling Suite (GHS)?

TAV Technologies Ground Handling Suite (GHS) aims to handle all ground handling operations with the help of advanced technology. This product is highly capable of detecting problem areas and workflows regarding ground handling operation owing to TAV Technologies' global airport management experience. TAV Technologies GHS is designed to save airport operators from manual work as much as possible, thus giving them more time to concentrate on their important duties.

GHS increases productivity and efficiency of ground handling operations whilst reducing operational costs due to optimized allocation of resources. It provides excellent planning and scheduling capacity with modern visuals and charts both on desktops and mobile devices.

Strategic planning
What-if demand and capacity planning
Roster/Shift plans
Real-time operation management
Operational performance
Reporting
TAV Technologies Ground Handling Suite (GHS) Modules

TAV Technologies GHS consists of two main functionalities as Rostering and Real-Time Management

1.TAV Technologies Ground Handling Suite Roster

TAV Technologies GHS Roster plans mobile resources, including employees and equipment not categorized under fixed resources in ground handling operations. It calculates the necessary number of mobile resources according to their workload. Considering labor law and the needed skills for each task, the system makes employee suggestions for different shifts.

Managing shift times, rosters, and absences based on business rules with the rostering module is possible. The system also provides a balanced workload for ground-handling employees. Rostering module of TAV Technologies GHS has been successfully implemented at different sizes of airports worldwide. It offers a flexible, reliable, and scalable solution to handle ground-handling operations at airports, ranging from local and small-scale facilities to major hubs that serve as base airports for international airline brands.

2.TAV Technologies Ground Handling Suite Real-Time

TAV Technologies GHS Real-time can optimize airport operations to accommodate last-minute changes and resolve errors by its intelligent rule-based conflict management tool. The system manages turnaround flight tasks and efficiently handles relevant updates such as load type/count change, flight time change, flight stand/gate change, passenger number increase/decrease, and task travel time change. Its real-time automated scheduling function significantly reduces the number of operational errors, and the system provides notifications about required actions and flight changes. This helps improve operational profits, resource management, and communication among employees.

Ground Handling System Frequently Asked Questions
You can find the FAQ section below for Ground Handling System:
Q1.What is ground handling in aviation?

Ground handling in aviation refers to the services and activities provided to an aircraft on the ground. These services include everything from fueling and maintenance to loading and unloading passengers, cargo, and baggage.
Q2.How do ground handling systems work?
Ground handling systems work by providing a range of services to aircraft while they are on the ground. These services are often offered by various companies, including everything from baggage handling and fueling to catering and maintenance. Ground handling systems typically use equipment and technology to help streamline these processes and ensure everything runs smoothly.