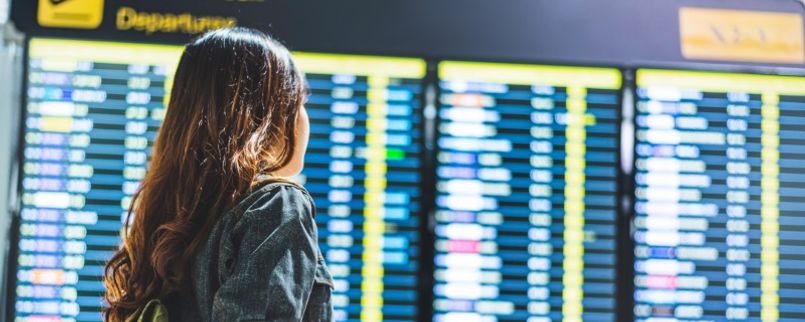 What is Flight Information Display System (FIDS)?
Flight Information Display System visually shares important data to all stakeholders within the airport. This system rules all the screens used at the airport, displaying real-time information or flight data to the passengers.

Benefits of Flight Information Display System (FIDS)
Flight Information Display System (FIDS) is an essential tool for airport-passenger communication. The system offers passenger information on a wide range provided at the check-in counters, boarding gates, baggage claim areas, and throughout the terminal using different information displays in an understandable format for a diverse audience. Based on the data source, Flight Information Display System continuously creates related visual content and makes it instantly available through dedicated user interfaces.

What is TAV Technologies Flight Information Display System (FIDS)?
TAV Technologies FIDS is a smart digital signage solution that provides an automated system that distributes and displays real-time flight information to both passengers and airport operational staff at the right place and right time. The system not only distributes flight information to a variety of public and staff display devices, but it also shows advertisements, media and data streams such as social media feeds, real-time weather forecast data, news and external web content.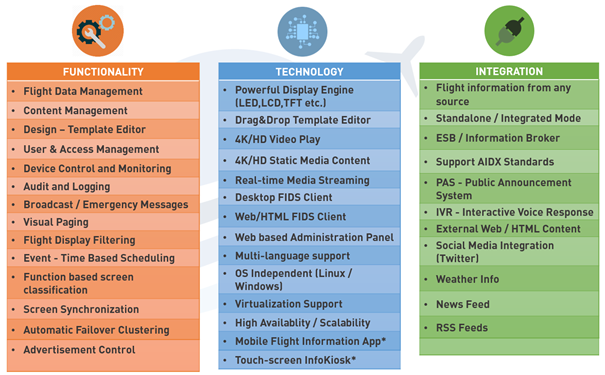 Benefits of TAV Technologies Flight Information Display System (FIDS)
TAV Technologies FIDS, a full-service solution for all airport signage, serves 150M+ passengers in more than 25 airports in the world. It provides several advantages to them.
TAV Technologies FIDS' advanced integration capabilities with AODB, RMS, Public Announcement/Paging Systems (PAS), Interactive Voice Response Systems (IVR), Fire Alarm Systems, Building Management Systems help to maintain end-to-end operation, keeping passengers and staff up to date.

It is a flexible and user-friendly system for users

It is scalable for all sizes of airports, fulfilling the future expansion requirements

It generates revenue through the display of advertising

It offers a safe environment with enhanced cybersecurity
Main Features of TAV Technologies Flight Information Display System (FIDS)
Accurate, fast, up and running on a 24/7 basis

High available and redundant architecture

Design editor and template management

Advanced business rule configurations
Remote device monitoring and management

Flexible integration with airport and external systems

Audit and logging capabilities

Multi-language / Unicode support

Multi-terminal support
PAS and IVR integration support
Technical Features of TAV Technologies Flight Information Display System (FIDS)
1.Cybersecure by Design
The Linux-based version of TAV FIDS ensures a safe environment against cybersecurity concerns and at the same time removes the need for paying unnecessary Windows operating system licenses. (Windows version is also available if needed)

2.Desktop or HTML 5 Client
TAV Technologies FIDS provides both desktop and web-based clients to respond to the needs of the airports. With FIDS Web client you can convert any platform, which supports common web browsers (such as Chrome, Firefox) to a FIDS screen and provide FIDS service to remote locations such as hotels, conference centers and public stations over a secure network channel. Desktop-based application for thick clients is also available as an alternative solution.

3.Drag and Drop Design Editor
FIDS Design Editor allows users to implement their conceptual designs easily with its drag-and-drop function. A wide range of user interface components and display features, including transitions and animations, are available to create desired layouts.

4.Advertisement Management
Displays can be used to run digital signage content, opening up new revenue channels from advertising sales. The advertisement management module is designed to display any type of media format, including images, animation, and video clips. The Playlist feature. allows for the continuous playing of media files based on a playlist order, play-time per frame, play count, or another basis.

5.Public Announcement
TAV Technologies FIDS integrates and provides passenger information through the airport Public Address System (PAS). The system can be integrated with well-known PAS brands in the market, enabling manual or automatic message broadcasts in different languages.





FIDS Frequently Asked Questions
If you want to learn more about airport FIDS, you can have a look at the answers below:
Q1.What is the purpose of FIDS?

FIDS (Flight Information Display System) aims to provide real-time information to passengers, airport employees, and other stakeholders regarding flight schedules, status, and other essential flight-related data. FIDS helps improve communication between airlines and passengers, manage the communication flow, and increase operational efficiency.

Q2.How does FIDS work?
FIDS is integrated with various airport systems such as reservation, check-in, and departure control. It collects flight data and presents this information on screens or monitors throughout the terminal. FIDS constantly provides real-time information about flight schedules, delays, cancellations, and gate assignments.

Q3.What are the benefits of using FIDS?
The benefits of using FIDS include improved passenger experience, increased operational efficiency, and better decision-making for airport staff. By providing passengers with real-time flight information, FIDS reduces stress for passengers associated with air travel, improves communication between airlines and passengers, and helps airlines and airports better manage their operations. This can lead to fewer delays, better resource allocation, and better performance.