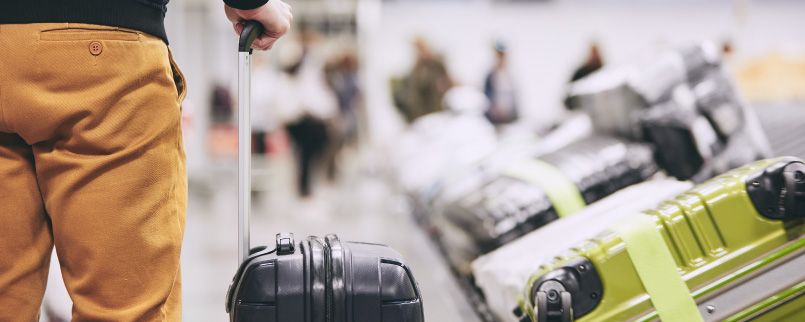 What is Baggage Reconciliation System (BRS) ?
Baggage reconciliation is a system to guarantee that all passenger bags are authorized to be loaded onto an aircraft, and no baggage travels unless the baggage-holder is on board. Airport employees can do the verification of baggage belonging through "Baggage Reconciliation System". They can also view the status of each baggage on a real-time basis throughout the whole passenger journey.

How Does Baggage Reconciliation System (BRS) Work?
Baggage Reconciliation System works through barcode scanners that are designed to read printed tags on bags. Thus, it directly controls whether each baggage can be properly matched with a verified boarded passenger before it is loaded onto an airplane.

Baggage Reconciliation System follows these steps:

1.Baggage handling at check-in counters
2.Tracking bag in baggage handling system
3.Baggage tag scanning
4.Baggage loading onto airplane
5.Unloading baggage after the flight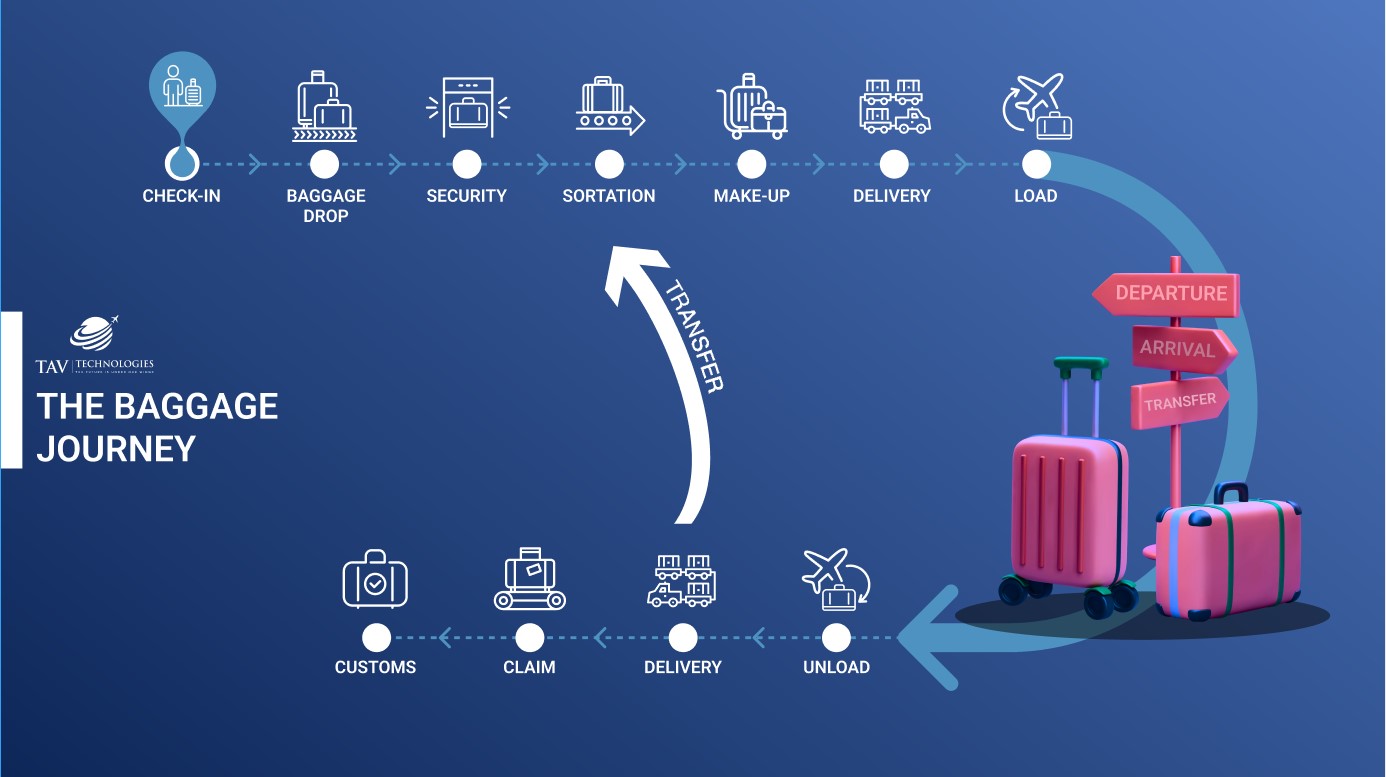 Benefits of Baggage Reconciliation System (BRS)
Effective baggage management is crucial for passenger satisfaction, flight safety and operational efficiency. Success in the airline and airport business heavily relies on trust; lost or misplaced baggage could cause severe consequences for passengers and harm customer experience immeasurably.
Ensuring that checked baggage is reconciled with its passenger before it is loaded onto a flight is one of the key security requirements in the airport industry, increasing on-time performance, and achieving compliance with sector regulations like IATA Resolution 753.
By tracking bags throughout their entire journey from the time a passenger drops off their bag, to when they reclaim it, airport stakeholders can reduce costly baggage mishandling incidents and build a positive passenger experience.

TAV Technologies BRS
Fully compliant with the IATA Resolution 753, TAV Technologies BRS provides comprehensive event tracking and dispatching capability. TAV Technologies BRS is an advanced solution that contributes to flight safety and operational efficiency through automating the process of reconciling passengers and their checked bags. Hand-held terminals guide the baggage handlers during the loading process and indicate whether the baggage is authorized to be loaded onto the aircraft, based on real-time data received from departure control systems.
The airlines and airports are strictly required to follow rules and regulations to sustain security in air transportation. TAV Technologies BRS is the ideal solution that serves aviation stakeholders to comply with these regulations and it ensures that the passengers and their bags board the same flight and no bag stays in the aircraft if its owner is not on board.
TAV Technologies BRS helps airports to manage their core baggage operations through below basic functions designed for efficiency:

Bag Loading Operations
Loading Status Tracking
Bag Management / Listing
Container and Rule Management
Loading Strategy Configuration
Bag Tracking and Enquiry
Departure / Arrival Flight Management
User and Company Management
Statistics and Reporting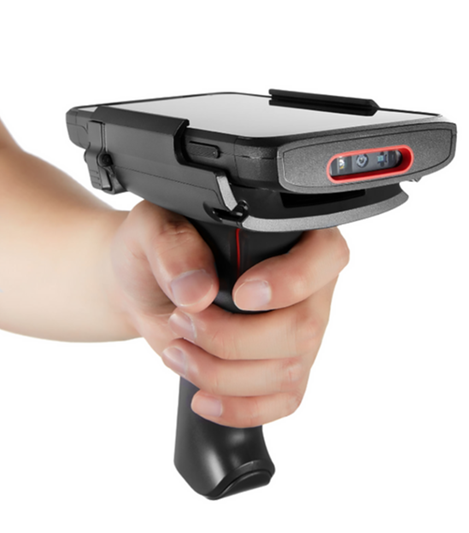 Benefits of TAV Technologies BRS
TAV Technologies BRS effectively contributes to operational efficiency and passenger journey by facilitating the baggage operation processes and reducing the number of mishandled and lost baggage.

Improved security and conformance
Reduced costs thanks to a reduction in lost and mishandled baggage
Reduced turnaround times
Reduced user errors thanks to the multi-language and intuitive user interface
Improved on-time performance
Enhanced operational efficiency
Increased customer satisfaction
Full compliance with industry regulations
Staff productivity via user-intuitive Android app
Multi airport support
Key Features of TAV Tecnologies BRS
Centralized (cloud) or local implementation alternatives
Full event tracking of the baggage information & activities
Web-based administrative panel for system management
Supports mobile rugged handheld devices (IP65 or IP67 HHT)
Fixed array scanners or handheld devices for arrival bag tracking
Flight details and automatic flight data updates in real-time
Interface with bag messaging systems, baggage handling and airline DCS systems
Integration with Airport Operational Database System and other airport systems for flight information
Multi-language user interface both on HHT & Administration module
Event and time-driven alert generation
Remote device management and maintenance
3G/4G data support for under-wing operations
Support for sharing baggage events with 3rd party applications such as mobile applications for enhanced passenger experience

Frequently Asked Questions
Q1.How Does a Baggage Reconciliation System Work?
A Baggage Reconciliation System (BRS) ensures that checked luggage is accurately tracked throughout a passenger's journey. Each bag receives a unique tag, which is scanned at various checkpoints, including check-in, loading onto the aircraft, and transfer between flights. The BRS reconciles this data with passenger manifests, facilitating the accurate loading, unloading, and transfer of baggage. In the event of lost baggage, airlines utilize tracking tools like the World Tracer System to locate and reunite passengers with their belongings, often coordinating efforts through central baggage offices. This streamlined process, powered by technology and standardized procedures, aims to enhance the overall efficiency and reliability of baggage handling

Q2. How Do Airlines Track Lost Baggage?
If a passenger reports a missing bag, airlines use the information from the bag tag to trace its last known location within the airport or between connecting flights. Airlines have central baggage offices that coordinate efforts to locate and reunite passengers with their missing bags. They use tracking systems and communication with other airports to trace the bag's movements. The International Air Transport Association (IATA) manages the World Tracer System, a global tool used by airlines to track and trace lost baggage. It allows airlines to share information about missing bags and assists in their recovery. Airlines make efforts to reconcile lost bags with passengers by delivering them to the passenger's address once located. The BRS plays a role in this process by providing the necessary tracking information.