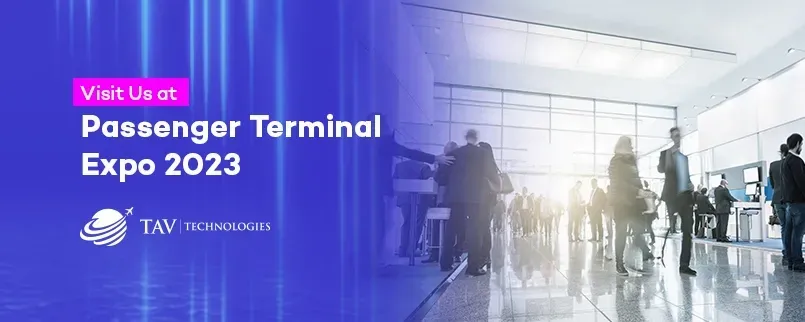 As TAV Technologies, a leading provider of airport management solutions, we are pleased to announce that we will exhibit in the Passenger Terminal Expo (PTE) 2023. The event, set to take place on March 14-16, 2023, in Amsterdam, is one of the significant airport conferences and exhibitions that brings together airport operators, airlines, technology providers, and suppliers from around the globe.

The event provides an exclusive opportunity for stakeholders to discuss the latest trends, opportunities, and challenges in the aviation industry. The event attracts over 10,000 attendees from at least 130 countries each year, making it a truly international gathering of industry leaders.


Visit Us at Booth No: 1180 to Meet with Our Technology Experts
We will showcase our latest innovations designed to digitalize airport operations and passenger processes at the event, including our cutting-edge solutions such as Total Airport Management Suite, Ground Handling Suite, Common Use Passenger Processing System, Baggage Reconciliation System, Flight Information Display System, and many more. PTE 2023 will be an excellent opportunity for us to connect with other industry leaders, share best practices, and gain valuable insights about the latest trends and developments in the airport management industry.


At our booth (no:1180), you can discover more about our solutions through product presentations and live demonstrations. Our technology experts will be on hand to answer any questions and provide insights to explain how you can benefit from our modern solutions.


Experience What You Can Get with Live Product Demos
At the event, attendees can participate in TAV Technologies' live product demos of both Total Airport Management Suite (TAMS) and Ground Handling Suite (GHS). These demos will showcase how airports and ground handling companies can optimize operations by utilizing the latest airport and ground handling technology systems. TAV Technologies professionals will demonstrate how the TAMS platform streamlines and automates processes, improves communication and coordination among stakeholders, provides real-time data and analytics to support data-driven decision-making on a single platform designed to manage airport operations. Additionally, attendees will also see how TAV Technologies GHS, a fully integrated system, organizes all operational and business processes for ground handling operations, providing a complete solution to the ground handling process.


Don't miss this opportunity to learn about the latest aviation technologies if you plan to attend PTE 2023.


If you would like to book 1-to-1 meetings with our team, please feel free to contact us.