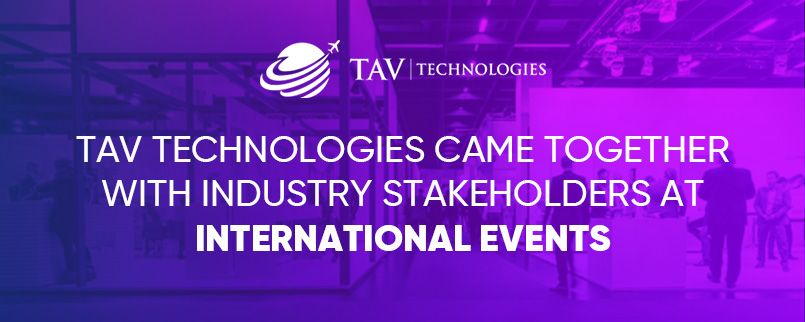 TAV Technologies became the sponsor of significant summits and events in the first quarter of the year to get together with sector professionals, airport operators, and leading technology providers.

International Airport Summit 2022
Three-day agenda of the International Airport Summit included interactive and in-depth webinars, panel sessions, innovative case studies, keynote sessions, and featured senior decision-makers across all parts of the airport. Leading C-level speakers and experienced airport industry professionals from global airports revealed how they continued to evolve their future strategy, leverage the latest technologies and innovations as well as continue to diversify their operations to enhance business resilience.

TAV Technologies became the co-sponsor of this internationally recognized event and shared its knowledge on topics like smart airports, airport IT management and software development. "Developing non-aero revenue streams" panel was hosted by TAV Technologies and various airport managers had a chance to attend this live event to hear from airport commercial experts on how they moved to boost existing non-aeronautical revenue streams or diversify and capitalize on new ideas and services. You can watch the panel here if you missed the live event.

Moreover, attendees of the event watched TAV Technologies Total Airport Management Suite (TAMS) demo to learn how they can benefit from this central and modular solution to manage their land and airside operations effectively.

Middle East Future Airports Summit

TAV Technologies became the official technology sponsor at the Middle East Future Airports (MEFA 2022). It was a virtual conference that took place between 23-24 March. Visitors learned about the latest technology solutions & services of TAV Technologies by visiting the online exhibition booth.
"Next Generation Airport Management" session about TAV Technologies' Total Airport Management Suite (TAMS) also grabbed visitors' attention.

Arab Aviation Summit

TAV Technologies introduced its technology solutions at the "Arab Aviation Summit" that took place in the United Arab Emirates, Ras Al Khaimah. The most significant issues determining the sustainable future of the global aviation sector were debated amongst aviation and tourism leaders during the summit. The platform created a conversation opportunity to build collaboration among industry players. On the other hand, TAV Technologies and Ras Al Khaimah International Airport signed an agreement to cooperate on digitalization management at the summit. RAK International Airport will benefit from TAV Technologies' airport technology solutions in order to establish a better passenger journey for airport visitors.