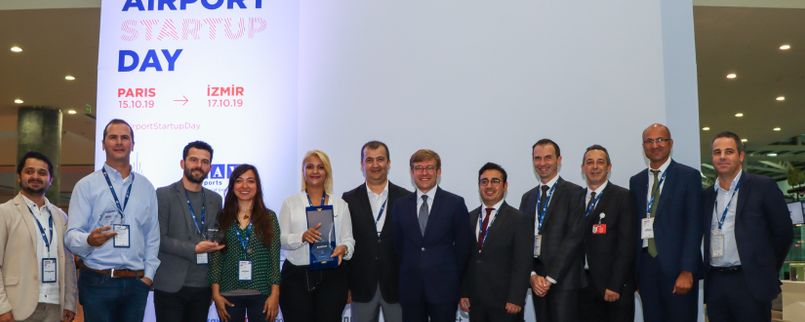 TAV Airports and Groupe ADP, the world's largest airport operation platform, opened Paris Charles de Gaulle and Izmir Adnan Menderes airports to creative initiatives. During the event held in Izmir today, TAV and Groupe ADP announced a support program for the initiatives working on innovative solutions in travel and hospitality industry sector. Two initiatives from Turkey and two from France will benefit from the experiences of TAV and Groupe ADP and get the opportunity to test their products at airports and to meet investors.

Passenger experience of future
Groupe ADP and TAV Airports annually serves 281 million passengers in 25 airports worldwide.

TAV Airports Chairman and Groupe ADP Deputy CEO Edward Arkwright stated: "Our strength: we are a network rooted in the dynamism and innovation ecosystem of each country in which we operate through our airports. Today between France and Turkey, tomorrow throughout our network, we will connect our innovative strengths. It's a win-win relationship. Airports are transforming and innovating alongside startups by expressing their needs. By participating in the program, entrepreneurs gain access to a network of mentors and skilled business experts, save time in penetrating a market, and accelerate their international reach."


TAV Airports President & CEO Sani Şener stated: "At TAV, we always strived to create financial success together with social value. Thanks to the program we have launched with Groupe ADP, we will offer significant support to creative initiatives in Turkey to carry their businesses to international platforms. Furthermore, we will have the chance to find the solutions that will create the future travel experience and implement these solutions at our airports. TAV has an integrated business model that provides services at every step of air travel. Thanks to our business model, we closely follow up the demands and expectations of our passengers and create innovative solutions. Through the 43 IT solutions created by our engineers working at TAV Technologies, we provide a streamlined passenger experience. Today, we open all the know-how, the data we have and the airports we operate to young initiatives with creative ideas".

Start-up acceleration program launched
The start-up acceleration program will begin with the selection of two companies from Turkey and two companies from France. Applications will begin in December 2019 and the selected initiatives will be announced on March 2020.
These initiatives will get the opportunity to work at ADP Innovation Hub and TAV Innovation Center and test their products at the airports operated by TAV and ADP. They will also have access to the network of business partners and specialists that TAV and ADP are in relation with and get support for their growth strategies. TAV and ADP plans to invest in start-ups that reach a certain maturity.

Paris-Izmir entrepreneurship bridge

Having been organized for three years by Groupe ADP, Airport Startup Day expanded to Izmir this year. Start-ups selected by an international jury met the passengers, sector representatives and potential investors at Charles de Gaulle Airport on October 15th, and at Adnan Menderes Airport, today.
The event in Izmir was attended by 15 companies from Turkey and two companies from France. TAV took two initiatives from Turkey to the event held in France. At the end of the event, four initiatives were rewarded with the votes of visitors and assessments of the jury.

TAV Technologies General Manager Kerem Öztürk stated: "Today, TAV Technologies offers 43 products developed by the company's own resources, used at 35 airports in 11 countries. With our products and services, we offer a streamlined travel experience to our passengers and resource efficiency for airports. We offer the opportunity to test all the competency we have in the sector as a group and the solutions we provide at every step of the travel at TAV Innovation Center that we have recently established. Now we open these resources to the sector-specific initiatives and aim at generating new collaborations to create the passenger experience of future".

Groupe ADP Head of Innovation Hub Sebastien Couturier stated: "The future generation of airports will combine a smooth travel experience, new mobility solutions with an efficient infrastructure. Through our Innovation Hub program in Paris, we provide a real "living lab" environment with a fabulous playground, expertise and mentorship as well as investment capacity to support business growth. Annually, we have offered about 15 new applications, with the opportunity to get tested at our airports since 2017. So far, our company has invested in eight companies and enabled four initiatives to find other investors. With the event held in Izmir, this program has now become international".

Initiatives at Airport Startup Day İzmir
34 initiatives participated in France and in Turkey and they were selected by an international jury. The startups had the chance to present in an environment where approximately 42 thousand passengers passed by in two airports.
RebelRoam and Further Network, the two companies elected by the jury, participated in the event to be held in Paris on October 15th. On the other hand, two promising companies from France also participated in the event to be held in Izmir: Mindsay and Finalcad

ONES Technology has developed biometric and card-based security solution infrastructure, which supplies top security solutions in a single system.

KODECO, a company established in Izmir, tries to improve future's transportation solutions with smart and ecofriendly mobility technologies. Completing their solar-power vehicle project, the company also works on autonomous vehicles.

AYVOS develops image processing software and automation systems based on machine learning, virtual networks and deep learning.

BEAD offers an AI-based system that optimizes energy management, marketing strategies and operations through real-time.

Bewell Technology; a company established in Eskişehir, specializes on artificial intelligence, Internet of Things, data mining, data flow monitoring and management and works on solutions to optimize work processes from different disciplines.

Rent 'n Connect, which has offices in London, berlin and Istanbul, is a travel technology company that provides a pocket Wi-Fi device and additional services for travelers.
inMapper offers an interactive indoor map platform for large buildings such as airports, malls, offices.

SADELABS leverages wireless network technologies and empowers clients to digitally transform their businesses with Internet of Things (IoT) applications.

Skysens is a technology company established in 2015 strongly focused on industry-oriented wireless IoT solutions.

Delta Smart Technologies, a company established in Izmir, has developed smart car park management for smart cities, smart incident management and KidsBus school bus management solutions.

Specialized in field such as call centers, real-time customer satisfaction measurement, Emse, a company established in Ankara, enhances travel experience by exclusive solutions developed for aviation sector.

Working on activity recognition and human behavior analysis, Xena Vision offers security technologies of future with its smart emergency recognition system.
Developed by Redhorizon, AvioVR is a virtual reality assisted flight phobia therapy program. Conducted by clinical psychologists, AvioVR provides rapid and permanent treatment for flight anxiety.

Bagaj provides locker service managed through mobile phones.

Canbay Systems specializes on AI solutions in the aviation industry.