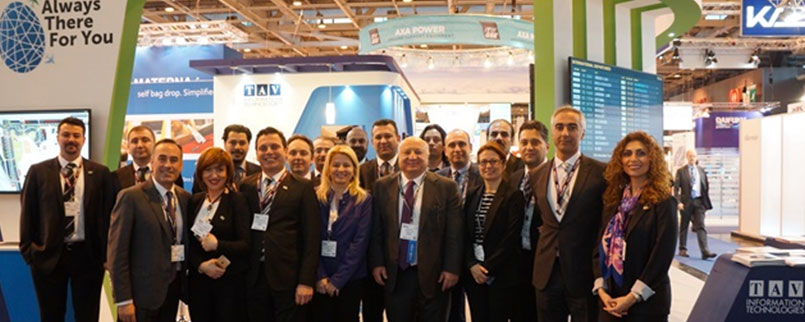 TAV Technologies has introduced its services and projects to participants in the "Passenger Terminal Expo 2015", which gathers the pioneering representatives of the aviation industry in Paris.
Having become one of the leading global brands specialized in IT solutions for airport operations, TAV Technologies has participated in 21st "Passenger Terminal Expo" which is one of the world's most important aviation exhibitions. TAV Technologies stand received huge interest of the visitors at the exhibition which gathers the airline companies and airport operators in Paris, the capital of France. TAV Technologies promoted its wide range of services and products such as analysis, design, consultancy, support and maintenance during the fair.
TAV Technologies General Manager Binnur Güleryüz Onaran stated "Providing
systems
and
products
to 29 airports in 3 continents, TAV Technologies offers integrated information solutions for airport operators. TAV Technologies also provides consultancy services to airports across the world. We have had the opportunity to present our know-how for the 5th time in 'Passenger Terminal Expo' which is attended by specialized companies in various areas of aviation sector. We attended the exhibition in line with our strategy to enhance customer, service and employee portfolios as part of our growth strategy. Presenting our products and services together with the power of our brand in the international platform is of high importance for us. TAV Technologies designs systems for airports by catering for the speed and integration of information through products that it develops by use of information technologies, corporate support, process management and innovative technology approaches and transforms basic operations into processes so we create integrated systems and projects for the airports. We increase the productivity for all of our shareholders with our projects. We aim to maintain a high level of passenger satisfaction by enabling easier integration between airlines, ground handling service companies and terminal aviation systems within the airport."
Onaran highlighted that the products which have been designed and developed by TAV IT include systems as
AODB
(Airport Operational Database),
IB
(Information Broker),
FIDS
(Flight Information Display System),
RMS
(Resource Management System),
CDM
(Collaborative Decision Making),
SCMS
(Slot Coordination and Management System) and PIS (Passenger Information System). Onaran added that TAV Technologies also provides services in areas such as Data Collection, UNIX and Database Consultancy, System and Infrastructure, Consultancy on Information Technology and Aviation Systems as well as Enterprise Resource Planning.