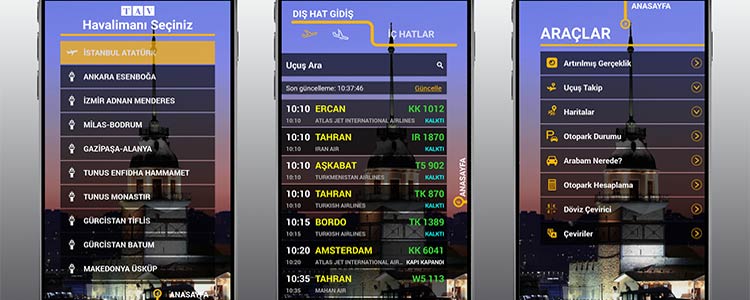 Mobile application enabling real time access to information on services offered to passengers at airports operated by TAV is now updated. The free application, which is downloaded for almost 210,000 times so far, offers guidance to airport users with Turkish language support, flight track, augmented reality and many other new features.
TAV IT General Manager Binnur Güleryüz Onaran said "Providing passengers easy and fast access to updated information at the airport, TAV Mobile is one of the most popular applications preferred by air passengers. We continue working to maximize passenger satisfaction and offer our guests a fast, comfortable, and safe travel experience. Therefore we closely follow the expectations of the passengers and develop innovative applications. TAV Mobile was released two years ago and attracted huge interest from the users. Now, we are updating the application with new features and keep on developing passenger- and airport-friendly projects.
The new version of TAV Mobile, which covers TAV-operated nine airports in four countries, is offered both in English and in Turkish. Renewing the user interface of the application, it is possible to monitor arrival and departure points, flight routes and the estimated location of the aircraft on the map by "flight track" module. With the "augmented reality" module, positions and information on the required points like restaurants, pharmacies, information desks and gates at the domestic and international terminals of Istanbul Atatürk Airport can be found by using the cameras of smartphones. The passengers can also vote and comment on the food & beverage facilities within the airport using the application.
Information on arriving and departing flights of domestic and international terminals can be listed and searched by TAV Mobile application, which is available for iOS and Android platforms. In relation to airport transport; HAVAŞ shuttle service, and metro and car rental information can also be displayed. The application also enables access to information on TAV Passport which offers privileges including priority pass, transfer and fast check-in at the airport as well as the contact information of the popular shopping centers, museums and restaurants in cities where the airports are located.
Current sales at duty-free stores, the list and locations of the stores at the airports can be accessed through the application. With these applications, it is only one click away to have an access to information including events held at the airports, the restaurant you require, cash machines, ticket sales points, private lounges, loss property bureau, and currency converter.