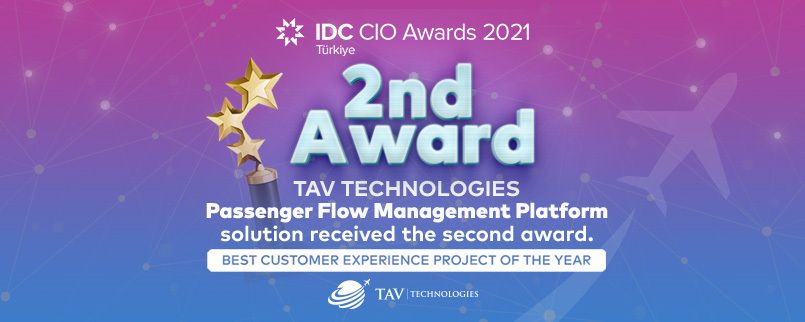 The Passenger Flow Management Platform developed by TAV Technologies received the highest accolade in the category of customer experience during the CIO Summit, organized by International Data Corporation (IDC) Turkey.

A subsidiary of TAV Airports and a member of Groupe ADP, TAV Technologies provides integrated end-to-end IT solutions at more than 30 airports in 13 countries.
Passenger Flow Management Platform

The award-winning solution aims to help airports for effective management of operational processes using density management features. The platform uses real-time image processing to analyze and provide actionable data to the operator. Users can directly access real-time information such as density, queue length, waiting time, physical distance violations, passenger circulation, and take action in line with this information. The enhanced algorithm can identify bottlenecks in passenger flow and help operational teams to make adjustments before queues are formed.

TAV Technologies GM Kerem Ozturk said

"The COVID19 pandemic has increased the pace of smart airport implementations. Our solutions provide a comfortable travel experience for passengers while helping airport operators, airlines and other stakeholders to optimize the use of resources. Fully complying with general data protection regulations, the award-winning passenger flow management platform enables the real-time management of queues and density, directly contributing to passenger satisfaction through optimized waiting times. It also can help monitor the crucial physical distancing in times of the pandemic. We are proud to receive this award by a product that is fully developed in house".

The platform is implemented first at Izmir Adnan Menderes Airport. TAV is planning to roll out the product in other airports under its management in the coming months.

TAV Technologies
TAV Technologies, a subsidiary of TAV Airports, provides integrated end-to-end IT solutions at more than 30 airports in 13 countries. Through its R&D center, TAV Technologies have developed more than 40 IT products for the aviation industry. Founded in 2005, the company extended its know-how in the aviation industry to other sectors such as health, production and construction. Through its expert staff, TAV Technologies specialized in digital transformation, smart airport solutions and cyber security.