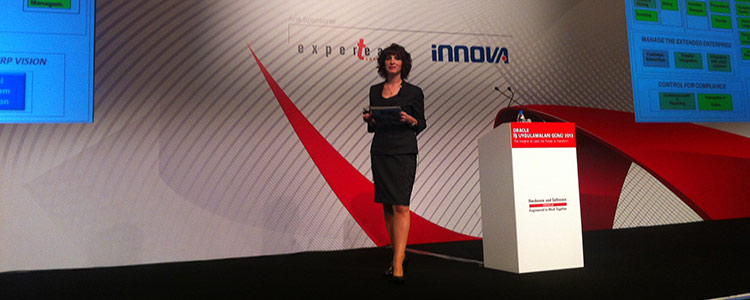 Oracle e-business applications used by TAV Airports and its affiliates was upgraded to the R12 version which has a new interface and improved features compared to version 11. Developed under the leadership of TAV IT Services, the Oracle R12 Upgrade Project was presented to leading business corporations and managers as a success story during Oracle Business Applications Day, organized annually by Oracle Turkey. TAV IT Services Corporate Resource Planning Systems Manager Burcu Guler, who is also the manager of the project, explained details of the project to participants during a presentation entitled 'Flight No. R12 Has Successfully Landed."

The project, which was finalized in one year, was sponsored by TAV IT General Manager Binnur Guleryuz Onaran, TAV Airports Holding Financial Affairs Director Deniz Aydin, TAV Airports Holding Chief Operations Officer Murat Ornekol and TAV Airports Holding Human Resources Director Yigit Oguz Duman.

The rapid expansion of the ERP coverage zone across TAV through new company and module set ups, the increasing maintenance and support costs of the old version and the requirements of the New Turkish Trade Act, which is expected to require additional reporting responsibilities for corporations in 2012, have created the need for further investment in Oracle R12, the latest version worldwide.

The Oracle R12 Upgrade Project is one of the first upgrade projects in Turkey. During the analysis and testing stages of the project, which were carried out by the TAV IT Corporate Planning Systems team, additional development, integration work, Oracle e-business applications and revisions on reporting infrastructure were made, taking into account the work processes in all relevant units within TAV Airports and affiliated companies. In addition, key users at TAV Airports and affiliated companies received training on the R12 and the system prior to commissioning of the new version.

Oracle e-business applications offer significant opportunities to make the work processes at TAV Airports and its 19 affiliated companies more efficient, provide automation of operational processes and reduce risks in relation to financial and operational controls. As part of ERP applications, many work processes including domestic and overseas accounts, revenues, treasury, budget, purchasing, stock, human resources and financial reporting are managed through Oracle EBS with 13 modules. As of 2013, Oracle EBS applications are integrated with 16 different systems. The system has reciprocal cash management integration with 10 banks in Turkey and 1 bank abroad. In addition to operations, the system also enables fast and secure budget and actual reporting, planning and consolidation through Hyperion applications from the Oracle product range.