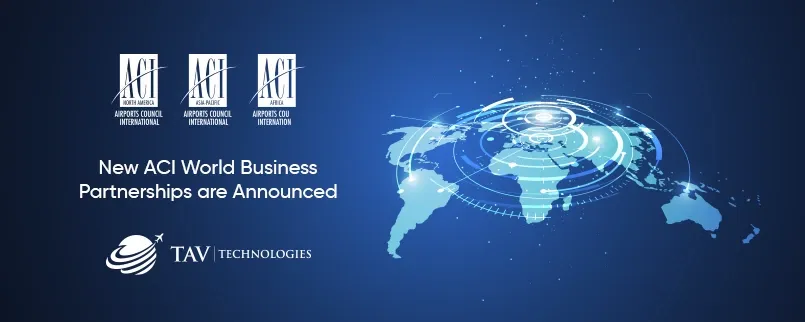 TAV Technologies became the World Business Partners of ACI North America, Africa and Asia-Pacific. These memberships come as an addition to ACI Europe and ACI Latin America & Caribbeans World Business Partnership memberships. TAV Technologies is now an ACI partner in all regions. We aim to expand our technologies, IT know-how, and digital solutions to those regions' airports, share our knowledge on airport information technologies with sector representatives and enhance the airport industry with our next-generation technology solutions.

These partnerships will extend our reach to build new partnerships and collaborations with significant airports all over the world. New world business partnerships will let us benefit from special advantages such as taking part in remarkable gatherings and promoting our technology solutions from airport operation systems to passenger & baggage handling systems through announcements within the airport business community.

Airport Council International (ACI) Regions Encourages Collaboration Within Airport Community

As one of five regions of the only global airport trade organization, ACI Asia-Pacific works as the voice of the airport stakeholders in the fastest-growing region of the world. ACI APAC leads the airports in the region to encourage collaboration among members and work on future strategies. The regional office is based in Hong Kong and has a direct impact on 49 countries in the region. Members of ACI APAC provide airport services to more than 1.7 billion passengers and handle 47.9 million

ACI Africa has fully endorsed its role as the voice of African Airports since 1991. From its headquarters in Casablanca, Morocco, the self-governing community organizes itself under its internal procedures. The members of ACI Africa comprise airports and service providers of the airport management sector. ACI Africa enables airports and service providers to interact with each other for new projects and strategy plans. ACI Africa has been representing the collective interests of African airports by focusing on professional excellence in airport operations and by offering various programs and services to reach safe and sustainable development of the air transport industry in the region.

ACI North America advocates strategies and provides services that strengthen the capacity of commercial airports to elevate passenger journeys, and increase the satisfaction of customers and communities. There are several departments taking roles under the roof of ACI North America as government affairs, legal, environment, safety, security, operations, and technical departments in the headquarters, Washington.

TAV Technologies will keep on working for smarter airports and digital methods in order to increase the service quality of airports in terms of passenger process and operation management. We are glad to have partnered with these three precious associations to extend our sphere of influence.