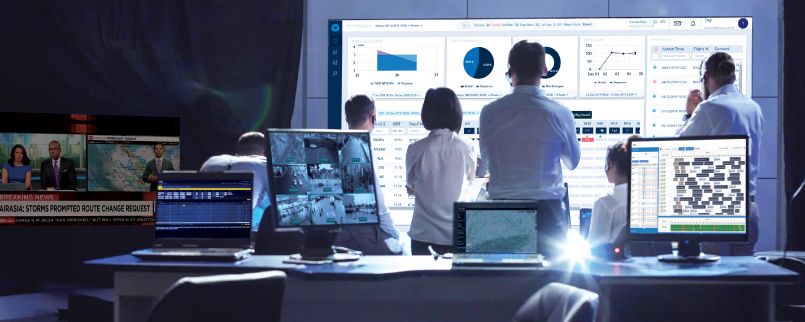 What is Airport Operation Control Center (AOCC)?

Airport Operation Control Center is the main hub in an airport where internal and external partners work together to develop all aspects of airport operations comprehensively. Airport data is gathered in this center to be processed and monitored. AOCC portrays an overall picture of an airport to let all related parties make decisions based on real-time information.
AOCC is composed of specialized teams that work under the control of an operations supervisor. Although each team has a specific goal they all contribute to the more general objective of minimizing the effects of disruption in the operational plan.

What is Airport Operation Control Center (AOCC) Solution?

Airport Operation Control Center solution is a focal system to manage operations, security processes, disruption, and crisis response. AOCC systems provide data integration to equip airport staff and airport stakeholders with updated information for their efforts on coordination, reporting, and analysis

Benefits of Airport Operation Control Center (AOCC) Solution

The AOCC systems play a strategic role in the ongoing improvement of core airport processes and act as a bridge between the functional stakeholder areas and airport governance forums.

TAV Technologies AOCC

TAV Technologies Airport Cockpit is the ultimate Airport Operation Control Center (APOC/AOCC) solution for airports to enable a multi-stakeholder environment. It provides a global view of an airport's performance through the analysis, visualization, and real-time exploitation of data from different airport systems and devices. Complemented with a rich set of airport and business applications. It supplies a powerful video wall solution and command/control tools.

Benefits of TAV Technologies AOCC

Enhanced decision making with a comprehensive view of the airside and landside airport operations
Consolidated resources, procedures, and activities to meet agreed performance objectives
Improved cross-departmental operations optimization
Decreased operational complexity
Minimized flight and passenger disruption through a single coordination point during IROPS or emergencies
Complies with EUROCONTROL Airport Collaborative Decision Making (A-CDM) Program and SESAR Airport Operations Centre (APOC) Concept
Better handling of adverse weather conditions and facilitation of quick recovery phase
Reduced operational costs due to improved operational efficiency and resource optimization
Reduction in facilities total cost of ownership, through consolidation of infrastructure, reduction in IT support
Reduced energy costs
Key Features of TAV Technologies AOCC

TAV Technologies offers airport operation control center software and hardware for real-time airport operations management, performance management, and crisis control with advanced features:

Room and layout design for Airport Operational Control Center (AOCC)
Powerful and feature-rich video wall solution and control platform
Full set of applications for airport management (A-CDM, AODB, RMS, FIDS, etc.)
Business Intelligence Layer to enable situational awareness &airport performance monitoring (KPI)
Role-based authentication and application provision
TAV Technologies AOCC solution provides rich data integration with the airport and 3rd party systems:

Airport Management Solutions
(AODB, RMS, FIDS, etc.)
Ground Handling / Turnaround Management
Baggage and Common-Use Systems
(BHS, BRS, CUPPS, CUSS, etc.)
Queue Management & PAX flow
Security Operations / CCTV
Building and Facility Management
Maintenance Management
Incident Management
Social Media / PAX Feedback
Live TV Stream

AOCC Frequently Asked Questions
Here are the questions and answers of Airport Operation Control Center system:
Q1.What skills do you need for an airport operation control center?
To work in an airport operation control center (AOCC), you typically need strong analytical and problem-solving skills and excellent communication and collaboration skills. You should also understand airport operations, safety procedures, and regulatory requirements well. Additionally, proficiency in relevant software systems and the ability to work well under pressure are essential skills for this role.
Q2.What are the roles and responsibilities of AOCC?
The airport operation control center (AOCC) monitors and manages all aspects of airport operations, including air traffic, ground handling, security, and facility management. The AOCC is also responsible for coordinating with other stakeholders, such as airlines, government agencies, and airport tenants, to ensure efficient and safe airport operations. The roles and responsibilities of the AOCC may vary depending on the size and complexity of the airport but typically involve overseeing day-to-day operations, responding to incidents and emergencies, and implementing safety and security procedures.
Q3.How does the AOCC system work?
An AOCC system is a software solution that helps manage and optimize airport operations. The procedure typically integrates with various airport systems and sensors, such as air traffic control, baggage handling, and security cameras, to provide a real-time view of airport operations. The system enables AOCC operators to monitor and manage all aspects of airport operations from a central location, including scheduling and coordinating ground handling services, managing airspace and runway capacity and responding to incidents and emergencies. The AOCC system also provides tools for data analysis and performance reporting, enabling airport operators to identify areas for improvement and optimize airport operations over time.