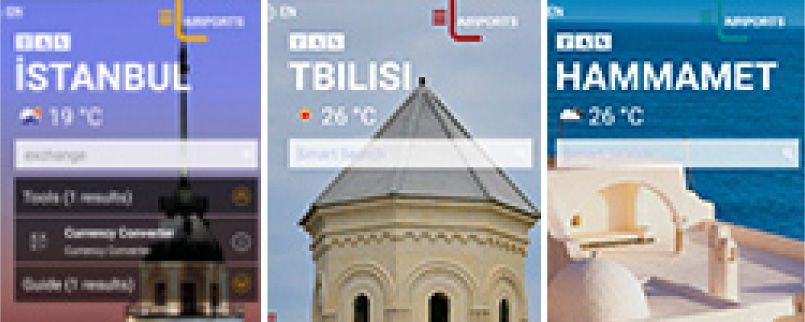 Developed by Turkish engineers and made available to users in 2011 with its first version, the updated
TAV Mobile Application
, which is available for iOS and Android operating systems, is now more helpful to passengers. The new version, which has been updated to include the latest technological developments and innovations and has the purpose to improve user satisfaction and experience, comes with many new features. The most important of all of these new features is that TAV Mobile includes SmartZone and iBeacon (BLE) technology and is now supported by Smart Watch. Thanks to these innovative updates passengers will be able to use their time at the airports more efficiently.
Passengers can access everything they need during their travels in a very short time by using the search engine base, Smart Search, on the main screen without wasting time figuring out how to find what they need in the application. Provided with the latest iBeacon (BLE) operations through the Bluetooth network infrastructure, the Smartzone application sends information on special promotions, menus, coupons and suggestions to the user by sending notifications to their smart phones while the passengers shop at duty free stores or enjoy BTA restaurants. The notifications are specific to the aisle visited at the duty free store or the restaurant in which the passenger is sitting and users also get special promotions.
The application also includes an Augmented Reality module, which assists the user in finding locations, regions, areas and products that the passenger is looking for easier through the camera of their smart phones and shows the direction. Supported by both Android and Apple Smart Watch, the application is now available on the wrists of users.
Providing communication support to the passenger through the newly added translator feature, the application enables passengers to check the most common phrases used in the native language of the related country and to listen to them with the audio option. Assisting passengers in being more confident and making travel easier, the updated version enables more efficient time usage and is pleasing to passengers with its lively and colorful background design.