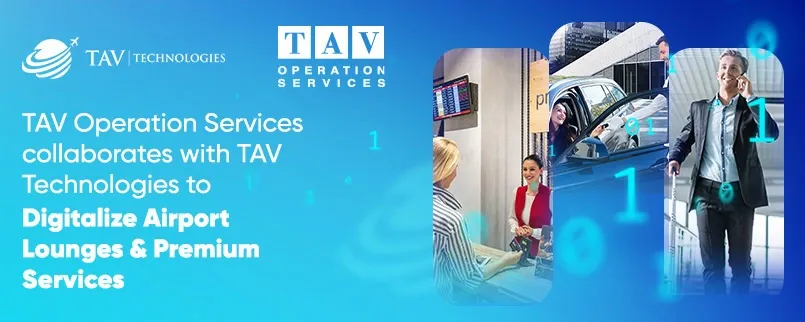 TAV Technologies is developing digital services platforms for TAV Operation Services, one of the significant players in the airport hospitality services industry, as their "Technology Solution Partner". The aim of the project is to transform passenger services and business workflows into a digital experience using state-of-the-art digital architecture and consolidate all customer data under one platform.


TAV Operation Services Will Create a Seamless Customer Journey

The digitalization project of TAV Technologies is going to build ONE Platform Vision and consolidate all customer data of TAV OS from fragmented infrastructures such as Lounge, Meet&Assist, FastTrack, City Transfer on a single platform with flexible integration capabilities.

The platform secures digital transformation with a consistent and single platform, supported by a modular service architecture. This data-centralization integrated with CRM tools enables operating teams to manage customer relationship management and loyalty platforms more effectively and focus on tailor-made solutions. Moreover, digital data transformation from a fragmented structure to a single platform will create a holistic view of improved value-added premium services.

Effective Operational & CRM Dashboards to Improve Data-Driven Decision Making

TAV Technologies successfully designs and manages operational and CRM dashboards for the aviation industry. In parallel with this aim, TAV OS is going to benefit from our proficiency to leverage their decision-making processes with real-time data. Operational & CRM Dashboards project covers summarizing key performance indicators with an in-depth monitoring approach and convertible format that assists managers and C-level executives for continuous improvement of processes.

TAV Technologies General Manager M. Kerem Öztürk commented on this partnership: "TAV Technologies uses the latest technologies to provide best in class solutions on-premise and on-cloud for the aviation industry. We utilize artificial intelligence, computer vision, machine learning technics, and prediction capabilities in real-life use-cases to create added value and improve the passenger experience. It is precious for us to work as a technology solution partner for TAV Operation Services in different areas of their business with our digital solutions and consultancy. We believe that our expertise in technology will support their key milestones and digital transformation targets for improving their passenger journey."

TAV Operation Services CEO Guclu Batkın said: "Managing a geographically diverse organization, we are investing in cloud-based technology to ensure multi-purpose functionality. Our ultimate goal is to create an uninterrupted and seamless customer journey across all channels. We are delighted to collaborate with our group company. TAV Technologies, thanks to their innovative technology and dedicated workforce. This project enables us an agile platform for providing high-quality service to our customers and partners."

If you would like to have further information about our services to build smart airports and increase passenger satisfaction, you can contact us here.