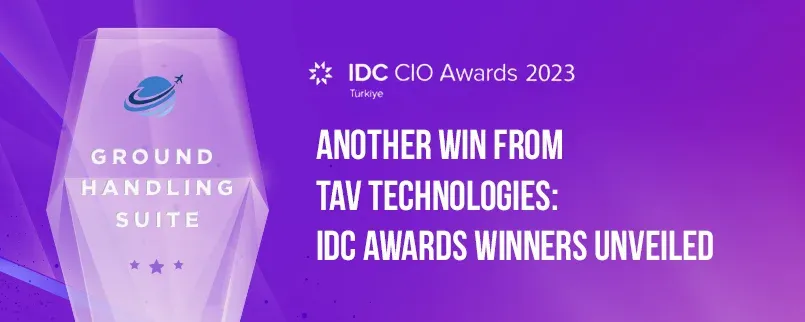 In today's rapidly evolving digital landscape, forward-thinking technology leaders are embracing the power of digital technologies to drive customer engagements, transform business workflows, and reshape operating models. IDC has hosted the prestigious IDC Excellence Awards 2023, designed to honor the visionary leaders and companies that have not only conceptualized but also successfully delivered transformative digital initiatives that yield tangible results. These awards celebrate the remarkable efforts of the country's foremost technology executives and organizations, recognizing their commitment to innovation, resilience, and adaptation in the face of rapid change.

Ground Handling Suite: A Fully Integrated Set of Modules to Provide Efficiency

TAV Technologies has been honored by IDC in the esteemed Cost Efficiency category. This recognition shows our tendency to deliver innovative solutions that drive operational excellence and financial savings for ground handlers and airports. We are proud to receive this prestigious award for our groundbreaking Ground Handling Suite (GHS), a comprehensive and fully integrated set of products offering end-to-end ground handling solutions.

The system encompasses a wide range of operational and business processes, providing a seamless and efficient workflow for ground handling operations. From initial staff schedule preparations to real-time resource allocation, situation awareness, turnaround management, tactical allocations, SLA monitoring, service recording, and automated billing, GHS covers the entire spectrum of ground handling requirements.

In particular, this recognition by IDC highlights the exceptional implementation of the GHS at İstanbul Airport, one of the largest airports in Europe. With approximately 1400 flights and ground handling 3500 resources managed daily, this project has been powerful in optimizing operations and streamlining resource utilization.

The implementation process has involved a comprehensive range of activities, including functional and technical design, analysis, development, testing, and seamless integration. The modules incorporated in this project have significantly enhanced operational efficiency, ensuring smooth turnarounds, proactive resource allocation, and adherence to service level agreements.

As we move forward, we remain committed to pushing boundaries and delivering cutting-edge solutions that drive operational excellence, cost savings and positive passenger journeys. Our vision is to continue redefining the future of operations through innovation and industry-leading technology.