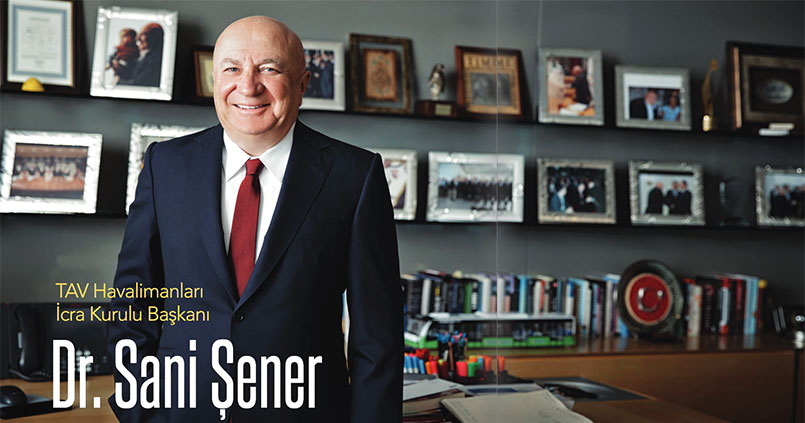 He is the leader, manager of all of us. He is also like an elder brother for us because he spares time to listen whenever we need him proving that he is an "accessible" leader. We learned a lot from Sani Şener about professional life as well as about everyday life. He is not only a sensitive and compassionate person but also an encouraging teacher. We are glad to interview him for Aerial readers and we would like to thank him for opening his doors one more time.

You are a successful role model for all of your employees? How do you define a successful role model?

For me, success is not related to popularity, or about how good or great you are. Being successful means paving the way for new dimensions and changing people's lives besides taking care of national interests and enabling social benefits. Someone who can achieve all of these is a successful person for me.

What would you like to recommend us about the professional life and everyday life as you have experienced that the most expensive thing in the world is "experience"?

You all know me well; so, I will not say anything different. We shall focus on our jobs and work hard; but shall not miss the life during this time. Experience is something "expensive", because the total of our mistakes is called experience. Mistakes also come with their costs. Therefore, we must be careful not to make expensive mistakes while gaining experience.

TAV provides services to countries and people with different customs and traditions. Satisfaction is our prior responsibility and our projects are the proofs that we have achieved this priority. What do you think is the secret for success?

The key to success is to believe in free thought and diversity as well as appreciating people. We trust people's abilities and skills in 18 countries we operate respecting all differences. We can focus on the main issues if we care about the differences. Growing in a geography which is prone to cultures and traditions of each country, TAV achieves the success thanks to this mentality.

Consisting of 5 continents, the world's population is almost 8 billion. You travel to different parts of the world. We are sure that you have several scenes in your memory. Which country and scene affected you the most?

I rarely travel for business with my wife, Asuman. Once, we flew to Dubai. Then, I had been traveling to Dubai for 10 years. She toured the city for a day. When she told me about the places she visited, I could not remember any of them. She said "I guess you had never been in Dubai before". The problem was I had only visited the hotel, worksite and airport in Dubai.


The countries are all the same for me because I have the same purpose. However, I once visited Cambodia as a tourist and it affected me deeply because of its condition after a horrible civil war.

Do you have a ritual? For example; a special pen to sign important collaborations, a charm that you take with you when you travel, superstitions or obsessions, etc.

I just pray. I have no other rituals.

Who do you read or listen? What are your interests?

People who closely work with me know that I always read books about the business life. MaIcolm Gladwell and Marshall Goldsmith are my favorite authors. I am also interested in physics and mathematics. Nowadays, I have been reading about Sumerians. I also try to get to know subjects such as machine-learning and cognitive computing.

Would you like to add any comments?

We are in a period in which digitalization rapidly grows and I try to follow up the changes with TAV Technologies.


I do my best to develop practical applications of digital work at airport operations in order to enable passenger satisfaction besides decreasing costs and increasing our income. I would like to thank my colleagues in TAV Technologies, who learned everything about airport operations taking my "You cannot digitalize something that you don't know" statement into account.