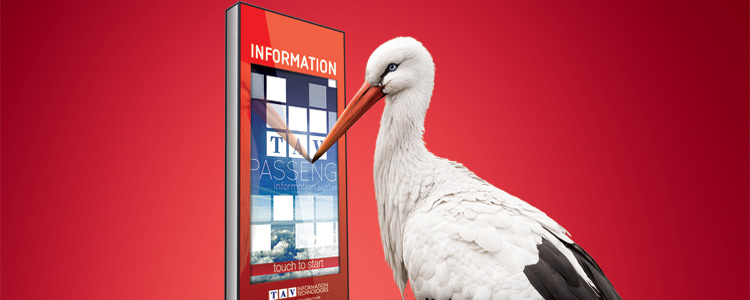 "
Passenger Information System
" developed by TAV IT was launched at Istanbul Atatürk Airport. Through "Passenger Information System" kiosks that offer a myriad of information from navigation to weather forecasts, passengers can have immediate access to all the information they need at airports.
TAV Information Technologies launched its new product "Passenger Information System" at Istanbul Atatürk Airport. "Passenger Information System" that was deployed at 14 kiosks in the busiest parts of the arrival and departures floors of Atatürk Airport's International and Domestic Terminals, provide passengers easy access to practical information with their touch screens.

Binnur Güleryüz Onaran, General Manager of TAV IT states that this new product will offer enhanced convenience at airports for passengers who prefer air transport and says: "The product, software of which was developed by TAV IT, has been first put into use at İstanbul Atatürk Airport. We expect this product to maximize passenger satisfaction and convenience in line with our high quality services."
With this application that aims at minimizing the complexity of airports, passengers are able to list the services available at Atatürk Airport's International and Domestic Terminals and display on a map the route they need to follow in order to reach the service they want. According to the user's preference, the application can also display an alternative route which can be used by disabled passengers, providing them a comfortable journey within the airport. When passengers scan their flight card with the barcode reader, the application displays the direction to the respective gate on the map, thereby saving time.
In addition to its navigation feature, the application provides information on breaking news, weather forecasts and local transportation alternatives as well as questionnaires and forms for users to communicate their opinions and ideas about the service quality at the airport.