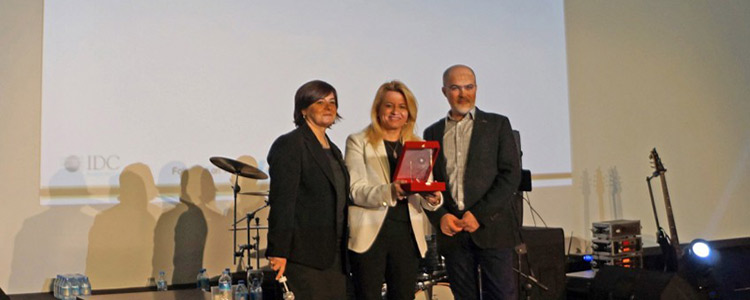 TAV Airports Holding CIO and TAV Technologies General Manager Binnur Güleryüz Onaran was selected as "Turkey's Best CIO" for the Madinah Airport IT and Aviation Systems Project at the 6th IDC Turkey CIO Summit 2015 by IDC (International Data Corporation), a market research company based in the USA which evaluates the development of information technologies and discloses company market shares. TAV Technologies was also awarded in the "Best Change Management Project" and "Best IT Governance Project" categories for the same project.
TAV Airports Holding CIO and TAV IT General Manager Binnur Güleryüz Onaran stated: "Providing solutions and services to 29 airports and 21 companies on 3 continents, TAV IT is pleased to be awarded in three separate categories for the Madinah Airport IT and Aviation Systems Project, which we began in March 2013 and completed in 2 years. These awards have significant meaning for us because they were given by IDC, one of the most respected companies in the IT industry. A prime example of the airport IT projects in which we have employed our innovation and know-how, the Madinah Airport project covers the management of all IT infrastructures, including the complete design, installation and opening of the airport. We not only provide technical infrastructure services but also manage the operation and enable the motivation and coordination of the project team, especially concerning geographic, cultural and personal differences. Our
SLOT
and CAFI (Catch Actual Flight Information) products have become the latest success stories at the airport, where more than ten aviation systems, which were created and developed by TAV IT engineers, are utilized. We would like to use CAFI, which automatically defines the names of aircraft within the air spaces and transfers this information to the related airports, at different airports in the future as our copyrighted product. The seasonal congestion at Madinah Airport, particularly during the Hajj period, will be managed in the best way thanks to our SLOT solution. We will provide benefits in the sector via our experiences from the projects we have managed so far. I would like to take this opportunity to congratulate all my colleagues who contributed to the project. I hope we will achieve many successful projects together."