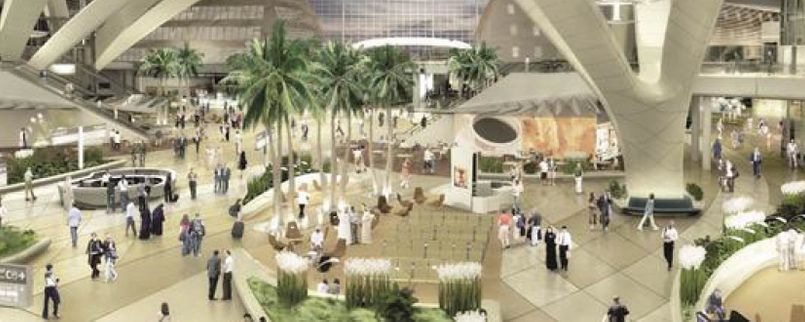 TAV Information Technologies has won the communication technologies tender held for Abu Dhabi Airport Midfield Terminal Building, which will be the world's largest terminal constructed under one roof when completed. Being awarded the tender for 50 million dollars, TAV IT has undertaken IT infrastructure set-up and maintenance support services of the terminal.

Having become one of the leading global brands specialized in airport IT solutions, TAV Information Technologies has won the tender for the infrastructure works of ongoing terminal construction project at Abu Dhabi, the capital city of United Arab Emirates. TAV IT is the only Turkish company invited to submit an offer to the tender that was participated by eight world-renowned IT companies. The tender, awarded for 50 million dollars, consists of designing, setting up and operating the whole communication infrastructure of the terminal and also providing technical support.

TAV IT General Manager Binnur Güleryüz Onaran stated: "We design, develop and implement local and global airport solutions and services as a leading brand in the aviation sector in terms of software and technology. We transferred our know-how to 9 airports in Turkey other than the ones operated by TAV Airports. We have also exported our know-how to Riyadh, Dammam and Madinah airports in Saudi Arabia. We are proud to be contributing to Abu Dhabi Airport, one of the most popular projects of the United Arab Emirates. TAV IT is the only Turkish IT company invited to the tender of Abu Dhabi, which is indicated as one of the most significant projects of the world in terms of airport construction and operation. We have been awarded the tender, leaving eight international IT companies behind. This project is one of the highest-budgeted international tenders that have been awarded to a Turkish IT company; therefore shows explicitly the position reached by Turkish engineers and IT specialists. TAV IT will also deploy previously developed software and solutions in this project. Furthermore, IT infrastructure consultancy services for security systems will be provided by TAV IT engineers as part of Abu Dhabi Midfield Terminal Project, one of the largest airports in the region. We will continue growing by maximizing our know-how in this sector and becoming a global eligible brand throughout the world."

The tender won by TAV IT covers designing, setting-up and commissioning of local area network (LAN), wireless local area network (WLAN), Cable Management System, Master Clock System, Storage Area Network, VoIP telephone central system based on IP and all servers and computer equipment and also operating the related infrastructure.

When completed, Abu Dhabi Airport Midfield Terminal will be able to provide service to 27 million passengers per year covering an indoor area of 702,000 sqm. including 106 passenger bridges, 156 check-in counters, 48 self-service kiosk areas, retail and food & beverage area of 28,000 sqm. The terminal is expected to be put into service by 2017.

TAV Group participates in HIVE-The First Operational Readiness and Airport Transfer ORAT Conference hosted by the Management Company of Oman Airports, OAMC in Muscat, the capital of Oman, between March 25th and 26th, 2015.

Speaking at the panel discussion titled "The Impacts of New Airport Projects on the Growth of Airport Operators", TAV Group President & CEO made a presentation titled "Three Rules of Operational Readiness and Airport Transfer". TAV Information Technologies has signed a collaboration agreement with Management Company of Oman Airports, OAMC, which is the airport authority of Oman. According to the agreement, bilateral exchange programs, joint projects and consultancy projects will be carried out.

Attending the conference as a speaker on the second day of the event, TAV Information Technologies General Manager Binnur Güleryüz Onaran made a presentation titled "Experiences and Lessons Learned Delivering ORAT Services" and shared the details of "ORAT" which is an extensive methodology and integrated approach to provide operational readiness within a new airport infrastructure project and the know-how of TAV IT on this subject. Onaran stated, "The primary goal of ORAT is to provide complete and timely operation of the infrastructure and operational systems to assure the complete continuation of the process and comfortable and safe travels for the passengers. Therefore, the systems having the first priority must be installed, integration tests must be carried out and ORAT process must be completed successfully. Business practices can be installed and put into use in parallel with main systems or they can be arranged in a phased process when there is time pressure for the opening and the installation can be completed just after the airport is put into operation. End user training sessions must be provided and the users must have full command on the systems before the airport is put into operation. TAV IT is glad to complete and implement all the phases correctly and completely to put 14 airports into operation and express its know-how and experiences on ORAT in the first international platform."