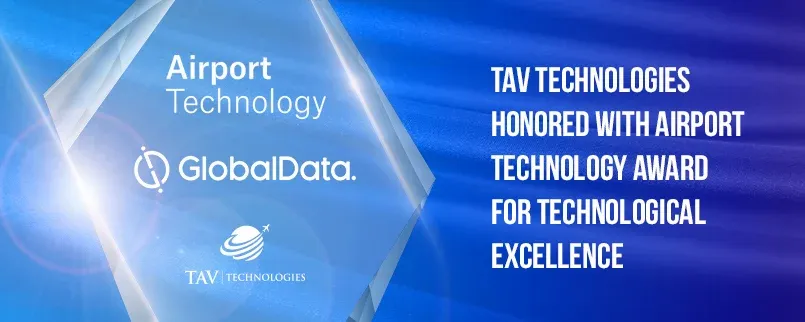 TAV Technologies has been honored with a prestigious award at the Airport Technology Excellence Awards, organized by Global Data. This esteemed program highlights companies that demonstrate exceptional achievements in two crucial areas: decarbonization and the integration of groundbreaking technologies, including AI and autonomous solutions.

Awarded Projects: FIDS and Digitalization Pathway in Uzbekistan

TAV Technologies has achieved an exceptional milestone by securing two distinguished positions on the winner's list in different categories. One of our achievement is the Flight Information Display System (FIDS), which has revolutionized the way passengers access crucial flight information at the airports throughout their journey.

FIDS seamlessly delivers real-time passenger updates across various touchpoints, including check-in counters, boarding gates, baggage claim areas, and throughout the airport terminal. By employing diverse information displays and presenting data in a user-friendly format, FIDS enhances their travel experience significantly.

The system offers compatibility with the latest smart TV operating systems, providing airports with a seamless implementation process without the need for additional computers to run FIDS screens. This innovative feature allows airports to directly control their total cost by reducing equipment expenses associated with each FIDS screen.

The second recognition is for our digitalization leadership at Semerkand Airport in Uzbekistan.Through our cutting-edge solutions, we have played a major role in enhancing the overall functionality and efficiency of Semerkand Airport. By leveraging modern technologies and innovative approach, we have successfully transformed key aspects of the airport's operations, delivering a seamless and enjoyable experience for passengers.

With Total Airport Management Suite (TAMS), a comprehensive platform that leads efficient land-side and air-side management, Semerkand Airport gained control over various operations, including flight management, resource management, SLOT management, flight information display, and ground handling management. TAV Technologies also provided Passenger Flow Management to enhance the passenger journey and Commercial Management to improve cost management and invoice tracking.

The Excellence Awards not only serve as a testament to TAV Technologies' commitment to innovation but also offers valuable insights about the current state of the industry. This recognition underscores our position as a frontrunner in the field, showcasing our dedication to driving advancements and embracing sustainable practices in airport IT management and technology services.