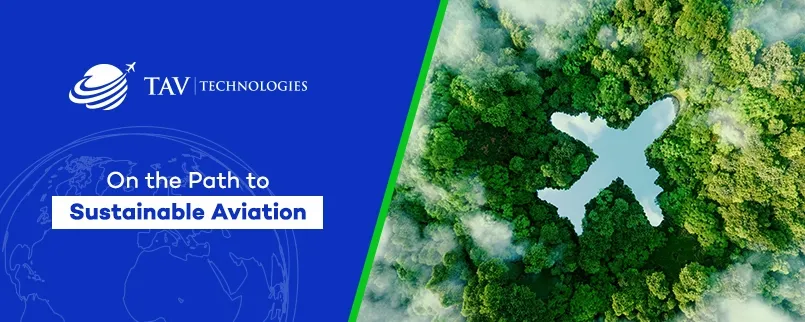 The route towards a fully sustainable aviation industry is challenging – but a pathway that must become reality inside the next three decades. Our industry is firmly committed to 'Fly Net Zero', achieving net-zero carbon emissions by 2050 to be in line with the objectives of the United Nations Sustainable Development Goals.

It is vital that we all take action to support this objective. As our planet Earth warms through climate change so deadly heatwaves become more prevalent. Oceans absorb 90% of the extra heat and expand, but in the period between 1901-2018 melting ice sheets and glaciers have also helped global sea levels to rise by about 20 centimetres.

Climate change also brings an increasing risk of floods, droughts and fires that affect lives the world over, impacting crop growth, forcing people to migrate, and impact human health.


Meeting the Challenge

Aviation has already started to drive sustainability improvements in various aspects of airport, airplane and airspace operations. International Air Transport Association (IATA), which represents 83% of air traffic via 300 airlines, estimates that nearly two-thirds of our target must come from Sustainable Aviation Fuel (SFA). Technology will play a vital role to eliminate emissions at source.

Five Routes to Greater Aviation Efficiency and Sustainability
Here are five ways that airports can improve their sustainability performance:

1.Renewable Energy Sources:
solar panels, wind turbines, and other alternative energy sources are a significant component of sustainable airports, which utilize renewables to power airport operations and thereby reduce their reliance on fossil fuels.
2.Sustainable Airport Design:
is quickly gaining traction when considering new or refurbished terminal facilities. Initiatives like 'green roofs' see vegetation cover part or all roof space to reduce energy use by 10-30%. Other projects like rainwater harvesting and energy-efficient lighting can be incorporated into airport design to reduce energy consumption and minimize environmental impact. Infrastructure improvements like fixed electrical ground power at gates, collaborative airport decision-making, and surface congestion management to reduce taxiing delays are also delivering tangible benefits.
3.Sustainable Ground Transportation:
is an essential area for environmentally friendly aviation. Airports encourage public transportation connections and use electric vehicles and alternative fuel-powered shuttle buses to reduce emissions.
4.Sustainable Aviation Fuels (SAF):
represent another technology advance, with SAFs made from biomasses or renewable feedstocks reducing the reliance on fossil-based jet fuels – the most crucial area for decarbonization. SAFs can be used by aircraft and helicopters without modifications, but the challenge is finding alternative fuel technology that offers a lightweight energy density – a key for airline economics given any weight adds cost to flying. SAFs are a mélange of technologies:
1.Most first generation of SAF biofuels come from fats, oils and greases –known as FOGs.
2.A next generation of SAFs is coming from biomass and municipal solid waste (MSW) and could reduce GHG emissions by 85-95%.
3.Early generation biofuels are limited in availability, but a Power-to-Liquid alternative could see renewable fuel converted through electrolysis

5.Sustainable Air Traffic Management (ATM):
improvements already delivering positive change include performance-based navigation, required navigation performance (RNP), space-based navigation, continuous descent/climb, expansion of 'perfect flight' partnerships, 4D Trajectory-based Operations (TBO), flexible tracks / free-route airspace, and flexible use of military airspace. These may sound complex but embrace new technologies like artificial intelligence (AI), automation and smarter data analytics for space-based advance planning, in-flight surveillance and real-time traffic management.

A Carbon Offsetting and Reduction Scheme for International Aviation (CORSIA) is also a first, single-industry global agreement to stabilize net CO2 emissions over the short and medium-term. Approved by the United Nations, it provides programs for passengers and airlines to purchase carbon credits that fund renewable energy projects until 2035, while the industry pursues other steps to eliminate CO2 at source.
So, there is already much being done, or planned to meet our objectives of a net zero industry. We have a challenging objective and yet a necessary and credible goal. To succeed, we need the aligned and coordinated efforts of our industry and all relevant stakeholder groups.
TAV Technologies plays a significant role in enhancing the sustainability of airports through its innovative technological solutions, supporting an approach centred around efficiency and superior service.