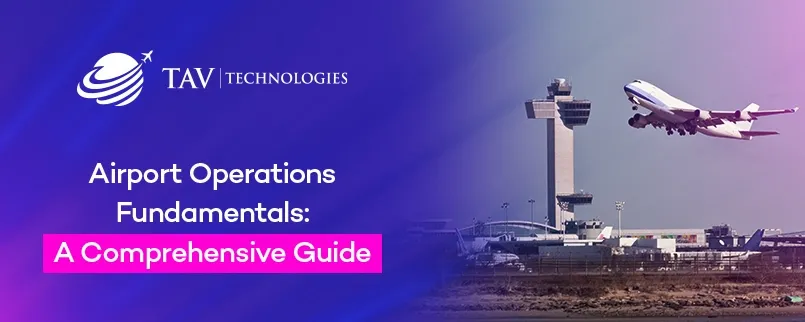 Airports serve as vital gateways that connect travelers to their target destinations worldwide. Behind the scenes, a complex web of operations ensures the smooth functioning of these crowded hubs. In this blog post, we will dive into the basics of airport operations to understand the crucial elements that keep air-transportation alive.

Understanding Terminal Operations

As passengers step foot into the terminal, a symphony of operations orchestrates their travel experience with pre-planned steps. From check-in procedures to security screenings and boarding processes, airports follow key rules to provide coordination required to ensure efficient passenger flow and safety within the terminal. The basic terminal operations can be summarized as:

Check-in and Baggage Handling: Passengers check in for their flights at designated counters or self-service kiosks.
Security Screening: Security checkpoints are in place to ensure the safety of all passengers and prevent prohibited items from being brought onboard.
Boarding: Once the aircraft is ready for boarding, passengers are called to proceed through the boarding gates in an organized manner.
Gate Management: Gate agents coordinate the boarding process, manage flight information displays, and handle any passenger inquiries or special needs to finalize passenger flow just before the flight
Passenger Amenities: Terminals provide various amenities such as lounges, restaurants, shops, and restrooms to cater to passengers' needs and enhance their travel experience.
Transfers: For passengers with connecting flights, airport staff assists in directing them to their next gate and, in some cases, their baggage is automatically transferred to their final destination.
Arrivals: Upon arrival at the destination airport, passengers disembark from the aircraft and proceed through immigration and customs processes.
Baggage Claim: Passengers collect their checked baggage from designated carousels or baggage claim areas.
Ground Transportation: Terminals are often connected to various ground transportation options, such as taxis, buses, rental cars, and airport shuttles.
Terminal Maintenance: Regular maintenance and cleaning of the terminal area are essential to ensure a safe and pleasant environment for passengers and airport personnel.
Airports benefit from modern IT systems and software to safeguard these passenger related operations with minimized errors. TAV Technologies' state-of-the-art solutions play a significant role in managing the entire passenger journey, transforming it into a smooth and efficient experience. By deploying intelligent algorithms, solutions like Common Use Passenger Processing System (CUPPS),Baggage Reconcilation Sustem (BRS) and Travel Document Authorization System (TDAS) streamline passenger touchpoints at the airport, making the entire process from check-in to boarding, and even baggage claim, a seamless affair. Therefore, airports guarantee increased levels of security, accuracy, and reliability in managing passenger and baggage flows. These advanced technologies not only enhance the overall travel experience for passengers but also significantly contribute to the punctuality and efficiency of airport operation.

Wings of Precision and Safety: What are the Airside Operations?

Airside operations refer to the activities and functions that occur in the secure area of an airport, where aircraft are parked, loaded, unloaded, refueled, and prepared for takeoff and landing. This area is restricted to authorized personnel, aircraft, and vehicles involved in flight operations. Through seamless coordination of various stakeholders, including airlines, ground handling companies, air traffic control, and airport authorities, airside operations ensure the safe and efficient movement of aircraft and contribute to the smooth functioning of the entire aviation ecosystem.

TAV Technologies demonstrates its expertise in ground handling operations with its Ground Handling Solution(GHS). It focuses on the digitalization of services such as resource optimization, passenger boarding and deplaning, aircraft cleaning, catering, baggage handling, and cargo loading and unloading. By optimizing crucial tasks, GHS empowers ground handlers to focus on delivering top-tier service, enabling airlines to maintain punctual schedules and foster positive air travel experience.

Ensuring Safety Above All: Airport Security Operations

Airport security operations refer to the comprehensive measures and procedures implemented by airport authorities and security agencies to ensure the safety and security of passengers, airport personnel, and aircraft. These operations including; access control, passenger screening, identity verification, surveillance mitigate potential threats, ranging from terrorism and criminal activities to safety hazards and contraband transportation.

Technology providers are critical in enhancing the safety of airports through the use of detection systems, crowd monitoring and camera systems. Among these providers, TAV Technologies' Passenger Flow Management stands out as a successful example of efficiently tracking passenger behavior using strategically placed cameras at key touchpoints within the terminal.

By leveraging state-of-the-art camera systems, TAV Technologies enables the airport security team to closely monitor the movement of passengers throughout the terminal. This comprehensive tracking capability empowers the security personnel to promptly identify any unusual or suspicious behavior among individuals.

The Unseen World of Airport Operations

Most of the time, travelers overlook the difficulties of airport operations that enable passengers to embark on journeys. By gaining a deeper understanding of the various facets of airport operations and IT services easing the processes, they can see the importance of coordinated efforts and planning involved in ensuring seamless travel experiences.