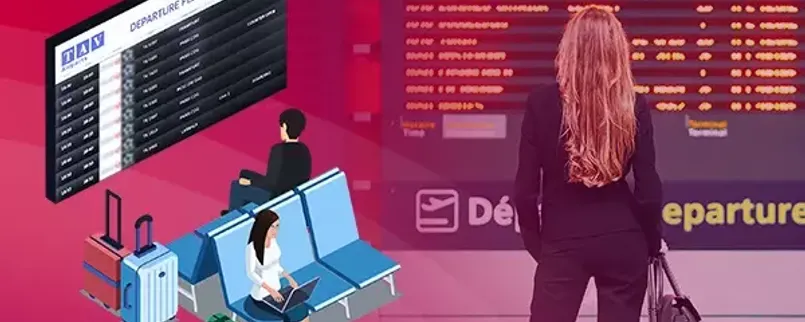 What is the most common scene you encounter at airports? After a short period of thinking, you would probably remember the moment people look at wide screens to find their gates. Have you ever thought about the technology behind these screens? Let's start with some basic definitions to show these screens' significance.

What are the screens in airports called?
The screens in airports are called flight boards.

What is a flight board?
Flight boards are the digital screens located at airports to inform passengers about important flight data.

What is Flight Information Display System (FIDS)?
Well, the technology is not only related to these flight boards. There is certainly more than that; flight boards are just the tip of the iceberg. The system that enables the flight boards to function is called Flight Information Display System (FIDS). The Flight Information Display System (FIDS) is the primary system to offer communication between airport management and passengers. The system has a crucial function for both airport employees and passengers.

How Does Flight Information Display System Works?
FIDS is an intelligent digital signage solution that distributes real-time flight-related information through monitors, software, and infrastructure. A well-designed FIDS actively supports an efficient operation and helps build a smoother travel experience for passengers. FIDS is designed to display details about the flight, check-in, gate, and carousel information.

TAV Technologies Brings FIDS to The Next Level
Thanks to its modern capabilities, TAV Technologies offers an innovative FIDS experience for airport employees and passengers. IATA-compliant system works in harmony with other airport operation software. It provides several benefits for airports with its clientless technology.

1.No Need for Extra Hardware with Smart TV Technology
TAV Technologies FIDS is compatible with the latest smart tv operating systems and can be implemented at airports easily without extra computers to use FIDS screens. Thus, airports can directly control their total cost by decreasing equipment costs for each FIDS screen
2.Improved User Experience with Design Editor
The "drag&drop" functions of FIDS offer a modern user experience for airport operators. The flexible Design Editor gives users complete control over what information should appear on the flight boards. Thus, the user easily prepare the content by using advanced design editor features
3.Managing Advertising Revenue
The advertisement management module displays any media format, including images, animation, and video clips, at specific points within the terminal to promote non-aero channels. The new intelligent advertisement management module allows users to control ads through pre-planned content according to the target audience.
4.In line with Cybersecurity Criteria
TAV Technologies FIDS ensures a safe environment for possible cyber attacks.
Get in touch with us to learn how we can elevate your airport-passenger communication with our FIDS solution.