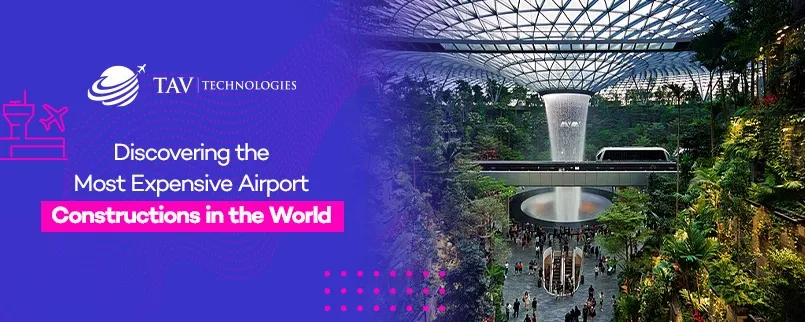 Airport construction projects are massive endeavors that demand careful planning, advanced technologies, and significant financial resources.

In this blog, we will take a closer look at some of the world's most remarkable airport projects. These airports serve as shining examples of human creativity and determination, displaying incredible architectural achievements, cutting-edge technologies, and exceptional infrastructure development. Let's embark on a fascinating journey as we discover these -inspiring airports that have captivated the world with their grandeur and innovation.


Most Expensive Airport Construction Projects
| | | |
| --- | --- | --- |
| Airport Name | Location | Construction Budget (USD) |
| Al Maktoum International Airport | Dubai, UAE | $32 billion |
| Beijing Daxing Airport | Beijing, China | $17 billion |
| Mexico City International Airport (NAICM) | Mexico City, Mexico | $13.3 billion |
| Jewel Changi Airport | Singapore | $1.3 billion |
Al Maktoum International Airport:
Dubai's initiative to become a global aviation hub led to the construction of the Al Maktoum International Airport, one of the most ambitious projects in the UAE. With an astounding budget of $32 billion, this airport is designed to accommodate more than 200 million passengers annually upon completion.

It incorporates various technologies such as smart gates, self-check-in kiosks, and biometric authentication systems, ensuring a seamless and efficient passenger experience. The runway and air traffic control systems are equipped with advanced technologies to manage the high volume of air traffic efficiently.
Beijing Daxing Airport:

Located in Beijing, China, Beijing Daxing Airport is a remarkable architectural marvel. Built with an estimated budget of $17 billion, it was officially opened in September 2019. Designed to handle the ever-increasing air traffic in China's capital city, this airport boasts a futuristic terminal building in the shape of a giant starfish.

The terminal features state-of-the-art technologies, including advanced biometrics, robotic services, and an automated baggage handling system. The airport also features state-of-the-art runway and taxiway systems to ensure safe and smooth aircraft operations.


Mexico City International Airport (NAICM):

Mexico City's new international airport, commonly known as NAICM, is an engineering marvel constructed with a budget of $13.3 billion. Spanning over 4,430 hectares, it aims to be one of the busiest airports in Latin America.
The airport incorporates sustainable design principles, such as rainwater harvesting and energy-efficient systems. It also features advanced passenger services, including biometric boarding, self-service check-in, and real-time flight information displays.


Jewel Changi Airport:
Singapore's Jewel Changi Airport is an extraordinary fusion of nature and engineering. This airport project had a budget of $1.3 billion and was completed in 2019. It boasts a breathtaking indoor waterfall, lush gardens, and a unique glass dome structure. Technological advancements like facial recognition systems, automated check-in and bag drop facilities, and smart security systems contribute to the overall seamless experience for travelers.

TAV Technologies' End-to-End Support from Construction to Flight Operations
These major airport construction projects showcase the intersection of human ingenuity, technological advancements, and architectural brilliance. With budgets stretching into billions of dollars, these airports are reshaping the travel experience through airport technologies that streamline operations and passenger experience.

TAV Technologies stands out as a leading provider of comprehensive end-to-end IT solutions specifically designed for airport projects. With expertise and experience in the aviation industry, TAV Technologies is capable of delivering the best solutions from scratch, covering every aspect of airport development.

Starting from the initial planning phase, TAV Technologies collaborates closely with airport authorities, and construction teams to design and implement tailored IT solutions. This includes the development of robust airport management systems that seamlessly integrate various operations, such as passenger processing, baggage handling, security, and flight management. During the construction phase, TAV Technologies ensures that the IT infrastructure is seamlessly integrated into the airport's overall design. This involves deploying advanced technologies, such as network infrastructure, data centers, and communication systems, to support the airport's diverse operational needs.

By leveraging its in-depth knowledge of airport operations and advanced technological capabilities, TAV Technologies offers airports a comprehensive suite of IT services that optimize efficiency, enhance passenger experience, and enable seamless operations. With TAV Technologies as a partner, airport construction projects can achieve their full potential, delivering world-class airports that meet the demands of modern air travel.