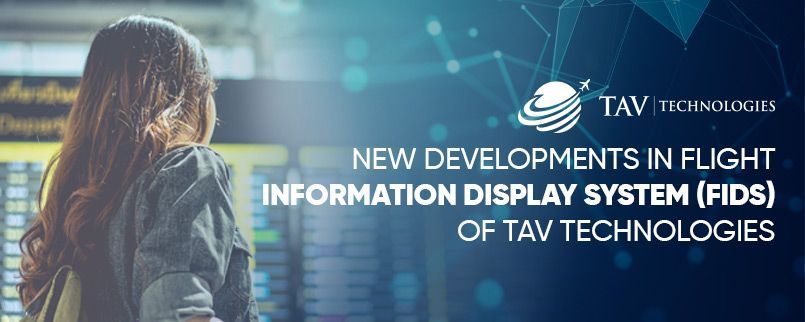 With the new challenges arising every year, TAV Technologies is working steadily to shape innovation at airports and air travel. It is substantial to offer a flawless experience for passengers and develop revenue channels at the same time for prospering airport management. Bearing in mind that airports need new developments to operate excellently, we always focus on the needs of our customers to offer better products. In line with our aim, we worked for additional features and developments to maximize the performance of our Flight Information Display System.
TAV Technologies FIDS is a smart digital signage solution that distributes and displays real-time flight information to both passengers and airport staff in more than 25 airports all over the world. FIDS consists of monitors, software, and infrastructure which allows extensive passenger interaction during their journey at the airport. Along with passengers, airport staff also benefits from the system to keep track of flight status.
Source of Airport Non-aeronautical Revenues

The FIDS solution also stands out as a non-aeronautical revenue source for airports. Thanks to our new smart advertisement management module, ad management is carried out successfully through pre-planned content according to the target audience and their behavioral habits. Moreover, these ads can be scheduled to be shown in front of gates and at specific points according to passenger flow. FIDS screens are highly significant in terms of messaging alerts and precautions in case of emergency. They can be especially used to share health warnings and public precautions as we are going through COVID 19 Pandemic.
Improved User Experience

TAV Technologies FIDS now offers an easy user experience for airport employees. Thus, they can prepare the content by using advanced design editor features. Furthermore, it is advantageous for them to see how the content will be displayed on the monitor before sharing it with the public. The flexible Design Editor gives users complete control over what information should appear where, when, and how. In addition, FIDS is fully compatible with other airport systems and it can be smoothly integrated with them in line with IATA's standards.
As TAV Technologies we ceaselessly follow the latest developments in technology to ensure that our products always keep up with trends and changes. You can have more information via the link and reach us to see a demo of our FIDS solution.