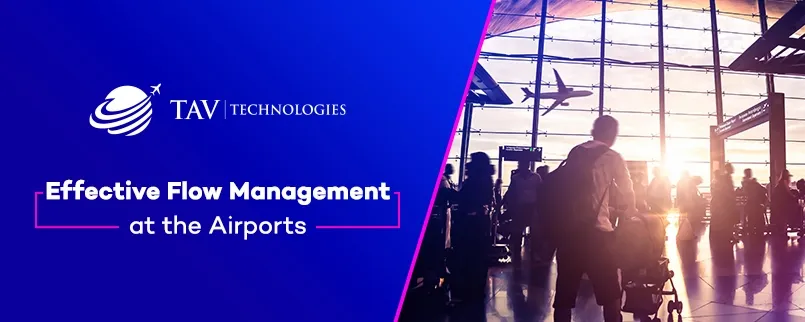 Airports are vibrant environments, connecting people to destinations around the world. However, with the rapid growth of air travel, airports are encountering a significant challenge: capacity constraints. As the number of flights and passengers continues to rise, airports' existing infrastructure and resources reach their maximum capacity, and airports are unable to handle the increasing demand for air travel. These constraints can manifest in various ways, such as runway congestion, gate availability, security checkpoints, baggage handling etc. When these bottlenecks occur, they can cause significant disruptions, long queues, delays, dissatisfaction for passengers and airlines.

To tackle these issues, airports are turning to innovative solutions like flow management. The implementation of flow management strategies is crucial for airports seeking to improve passenger experience, resource utilization, and operational efficiency.

The Role of Flow Management at the Airports

Flow management is a holistic approach to optimizing the movement of passengers, aircraft, and resources within an airport ecosystem. It involves analyzing data, implementing strategies, and leveraging technology to streamline operations and enhance overall efficiency. By effectively managing the flow of people, aircraft, and processes, airports can ease capacity constraints and minimize disruptions. To achieve that, the number of airports utilizing advanced passenger flow management technologies to track and monitor the movement of passengers throughout the airport has been increasing. Recognizing the importance of real-time insights, airports have embraced innovative solutions such as sensors, heatmaps, and data analytics. These technologies provide valuable information about passenger flow, enabling airports to make data-driven decisions and further optimize their operations.

Predictive Analytics and Real-Time Data for Efficient Flow Management

Flow management relies heavily on predictive analytics to anticipate potential problems and mitigate them in advance. By analyzing historical data, weather patterns, flight schedules, and passenger flow, airports can forecast peak periods and allocate resources accordingly. This proactive approach enables airports to adjust staffing levels, optimize gate assignments, and streamline security and immigration procedures to minimize congestion. The advanced analytics tools and simulation models help airport operators simulate different scenarios and identify potential bottlenecks before they occur, enabling proactive planning and resource allocation.

To ensure effective flow management, airports need access to real-time data from various sources. By integrating this data into a centralized system, airport operators can monitor operations in real-time, identify potential issues, and take immediate action to resolve them.

Fostering Communication among Stakeholders

Flow management involves collaboration among various stakeholders, including airlines, air traffic control, ground handlers, and airport authorities. By fostering open communication and sharing real-time data, these stakeholders can make informed decisions collectively. This collaborative approach ensures that everyone is aligned and working towards the common goal of optimizing flow and resolving capacity constraints.

Enhancing the Passenger Experience and Operational Efficiency through Flow Management

Implementing effective flow management strategies brings numerous benefits to airports. Firstly, it enhances the overall passenger experience by minimizing delays. By streamlining processes, reducing queues, and providing timely information, flow management reduces stress levels and increases passenger satisfaction. Secondly, flow management ensures the optimal utilization of airport resources, including gates, runways, and staff. By leveraging real-time data and making informed decisions, airports can allocate resources efficiently, avoiding unnecessary bottlenecks and maximizing operational capacity. Lastly, flow management enhances operational efficiency by optimizing processes and minimizing disruptions. This not only leads to cost savings for airports but also generates increased revenue and enhances competitiveness in the industry.

Flow management is crucial for airports to meet the increasing demand for air travel, ensure efficient operations and long-term growth. It became even more significant during the pandemic period when the priority shifted to ensuring the safety and well-being of passengers. By implementing effective flow management strategies, airports were able to regulate passenger movement, maintain social distancing protocols, and minimize congestion within the airport premises. These measures not only contributed to public health but also enhanced the overall airport experience for passengers.

As airports face capacity constraints, flow management continues to provide a powerful solution to overcome these challenges and adapt to the changing needs of air travel. Using predictive analytics, real-time data integration, collaborative decision-making, and advanced technology solutions, airports can optimize their processes, streamline operations, and effectively address capacity issues while prioritizing passenger safety and satisfaction.

To explore how TAV Technologies can enhance capacity management at airports through their advanced passenger flow management technologies, please visit TAV Technologies Passenger Flow Management webpage.