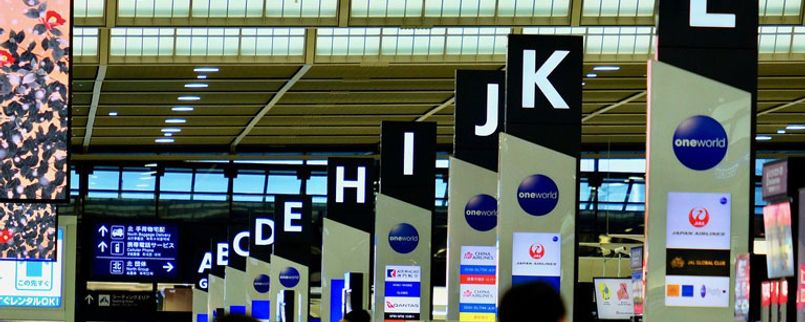 Air transport is among the most severely hit sectors globally, as the coronavirus outbreak continues to take its toll on the entire travel industry. While this pandemic is first and foremost a health issue, it is also a major economic one. The immediate impact on air travel has been covered comprehensively by various media outlets and while the future remains unclear, it is important to try to stay ahead of the curve and reimagine what the new reality will look like once global air travel is able to resume. In this article the FTE team explores what this new reality might mean for airlines, airports and passengers.
Social distancing – the new norm?

In the near term after the virus has been contained, international travel probably won't be a top priority for the majority of the global population, partly due to fear, but also partly due to the collapse of the economy. Airlines and airports will have a joint mission to bring back customer confidence. Similar to recent advertising campaigns unveiled by some of the big supermarkets and retailers (such as the one below by Tesco), airports and airlines are likely to have to invest in PR and advertising campaigns to support a new way of travelling defined by social distancing and increased sanitisation.


It will also be essential for airlines to stimulate demand and create new incentives for travellers. Many airlines have already implemented some measures and are waiving fees for customers who need to change flights in an attempt to boost public confidence for future bookings. But even once the demand for travel is fully restored, the end-to-end experience may have forever changed, and it is likely that social distancing will become a longer-term feature in our lives.

This could be particularly pertinent for businesses such as airports which tend to attract large crowds of people in relatively small spaces. So, how would the industry address this? Indeed, technology will take centre stage to help airports and airlines overcome the hurdles of this new reality.


One way forward would perhaps be to implement more effective queue management – something that airports and airlines have been looking into for a while now to reduce wait times, optimise the passenger experience, and increase their revenues. For instance, earlier this year Delta Air Lines launched a virtual queuing feature on its Fly Delta app, which notifies passengers when their seat is boarding. Similarly, Gatwick Airport and easyJet also recently trialled boarding by seat number to try to reduce queues and boarding times. However, this might not be completely viable for all passengers once travel demand increases again.

How this could be applied in other typically congested areas of an airport such as check-in halls and customs/immigration checkpoints poses an additional challenge. If governments implement on/off social distancing measures once the COVID-19 peak has passed – for example, they could temporarily re-introduce social distancing during periods when local and national health services are at or near capacity – airports must be prepared.

Will floor markings in the check-in hall be enough to keep passengers two metres apart while queueing? If so, what impact will this have on check-in hall capacity? It's feasible that airports will have to prepare social distancing-friendly queuing zones at the kerbside outside the entrance to the terminal building. Many supermarkets are now taking this approach to limit the number of people in the store at any given time and enable business as usual, perhaps laying the foundations for consumers to accept such practice as the new norm.

The large customs/immigration checkpoint queues that have become commonplace at many major airports in recent years pose an even bigger challenge now. The implementation of biometric e-gates has helped to significantly cut queueing times and they have a vital role to play in the future but it's possible that social distancing-friendly queuing systems will have to be implemented here too.
Automation will become paramount
The majority of airlines and airports were already planning major digital transformation projects before the COVID-19 pandemic hit. With these plans likely to continue once normality returns – and in many cases be prioritised during the ongoing crisis – the industry will have to make faster moves to reimagine, reshape and reinvent travel and create long-term value. And with airlines and airports making huge staff redundancies, the appeal of technologies that reduce the reliance on human workforce, such as automation, robotics and biometrics, will only become stronger. The way in which biometrics will drive this transformation will be a major focus during the FTE Biometrics Summit, which will take place as part of the FTE Global show in Las Vegas, 7-9 December.

While it is difficult to predict passenger trends right now, one can imagine that many people will likely want to touch surfaces and interact with agents as little as possible. In this scenario, automating as many passenger processes as possible will be crucial.

Thermal imaging cameras and temperature sensors to capture body temperature are another feature that could become a part of future solutions. Some are quickly adapting to these emerging trends. For instance, Etihad Airways has announced that it will be trialling a range of contactless, self-service technologies, developed by Elenium Automation, that can estimate a passenger's vital signs and allow for touchless, virtual health screenings at airport kiosks and bag drops.

Perhaps technology already implemented in airport terminals to spot terrorism threats, including advanced CCTV and surveillance platforms, could be adapted to spot passengers who are indicating potential illness symptoms. Of course, privacy concerns will have to be addressed.

In fact, we expect to see new measures introduced by airlines and airports to check people's health even before they have reached the airport. New kinds of digital identity documents might be developed, which would help not only airports and airlines, but also other public services determine whether a person poses a health risk to others.

For instance, researchers in Germany are exploring the idea of introducing "immunity passports" to help establish who has already built up an immunity to the coronavirus and is therefore able to go back to work. The UK government has also expressed an interest in going down a similar route. Might such documentation have to be presented when booking international travel once the social restrictions start to ease?

Cabin sanitization takes centerstage
Likewise, focusing on the inflight experience, passengers' hygiene and sanitization concerns will be amplified. Many airlines have already taken to mainstream and social media to showcase their aircraft cleaning procedures to reassure passengers that cabins are and will be clean.

But with quick turnarounds between flights, there have been some concerns about whether aircraft cleaning is as thorough as it should be. Perhaps airlines will have to reconsider their flight schedules to ensure that each aircraft receives a more thorough clean before the next set of passengers board. However, reduced turnaround time has always been a weapon for airlines to cut costs, and also to keep airports profitable, so this would certainly pose a big challenge to the industry.

And once flights take off again, in the short term perhaps airlines will have to follow the "seat separating" approach taken by cinemas and theatres, for instance, in which every second seat in the aircraft would have to be left unoccupied. This would present another financial blow to airlines, though, who may well seek to monetize the "empty middle seat" policy to offset the impact of not being able to sell every seat. This would not be an entirely new concept. For instance, last year Aer Lingus launched its new AerSpace product, which is billed as "a new premium travel experience for short-haul guests" and which guarantees customers an empty seat next to them. This product may become more widespread but how much more will passengers be willing to spend on this?

Similar to touch-screen kiosks, passengers may be warier of touching inflight entertainment (IFE) screens and may turn to their own devices en masse. There could be an opportunity here for airlines, or more specifically airline apps. Airlines may have more success in convincing passengers to use their apps if it adds value at every touchpoint – from checking in and navigating through the terminal, to controlling IFE and even interacting with cabin crew – creating a real opportunity for them to promote relevant ancillary services though their mobile apps to an almost captive audience.
Moreover, inflight we expect to see new forms of IFE content, such as health and wellbeing videos and audio guides, becoming even more popular as travelers prioritize their physical and mental wellbeing.
The rise of the online society
If anything, this crisis has pushed us all further into the online world, which supports the argument that the next stage of the revolution in e-commerce/online shopping is just around the corner. While there may always be a need for some brick-and-mortar stores, airlines and airports must recognize the increased importance of e-commerce retail in times like these. It's again a question of how quickly the industry will adapt.

Even people who have until now shunned online shopping are suddenly embracing it, partly forced to do so by the lack of access to physical stores. As people become more accustomed to shopping online, this is a trend that could permeate the industry. The demand for online browsing and pre-ordering of products from duty-free/travel retail stores at airports may increase, and digital inflight shopping channels supported by onboard Wi-Fi may well catch on much more quickly than previously anticipated, therefore sounding the death knell for the duty-free trolley, which a number of airlines have already shunned. E-commerce and the future of ancillary will be topics widely discussed during the dedicated FTE Ancillary show later this year, which will take place in Las Vegas on 7-9 December.

Collaboration – a long-term trend

Recent events have highlighted that collaboration is key. Airlines and airports are having to collaborate more closely with other industry stakeholders to work out how to manage the impact of COVID-19. We hope that this will be a long-term trend that benefits the whole industry.
In the United States, it has been reported that American carriers may be willing to work together to ensure the continuation of smaller routes in order to satisfy the terms of the CARES Act, which states that US airlines cannot cancel any existing services during the crisis.
Such collaborations would previously have seemed outlandish but they make sense in the context of the ongoing crisis and may open people's eye to the wider benefits of collaborating for the benefit of the industry, rather than simply operating as a silo for the benefit of shareholders.
The International Civil Aviation Organization (ICAO) and the World Health Organization (WHO) have also joined forces to advise the aviation industry regarding the virus, but also to reaffirm their commitment to fostering greater international cooperation to contain the virus and to protect the health of travellers. Xiamen Airlines, for instance, has been among the airlines to echo this statement and call for better cooperation with industry partners to overcome the crisis.

Protecting staff members
In the airport and aircraft environments the people on the frontline are the members of staff who engage with customers and keep everything working in the background.

Airlines and airports must be putting steps in place to look after the wellbeing of every employee as well as every traveler. Protective screens at check-in desks, personal protective equipment, and clear policies outlining what to do if you, a colleague, or a passenger display symptoms will all be important. These cannot be short-term measures; many of them will become ingrained in order to protect the health and wellbeing of employees in the longer term.

One step forward, two steps back?
Up until now, the aviation industry was recording a steady growth in passenger numbers and the outlook had been overwhelmingly positive. ACI World had originally forecast that passenger traffic worldwide would reach 9.5 billion this year, but now expects 3.6 billion fewer passengers. Indeed, ACI predicts that it may take a year to 18 months to reach anywhere near pre-crisis traffic levels, and the industry may not record pre-COVID-19 traffic volumes again before the end of 2021.

But at the same time, it is important to remember that while this crisis has put immediate growth ambitions on hold, we shouldn't accept it as being a "one step forward, two steps back" scenario. Perhaps it poses a real opportunity for meaningful innovation and transformation to be accelerated.

Traditionally, the industry has struggled under the weight of day-to-day operations. As those have now been scaled back significantly, there is a window here to reimagine what airlines, airports and their partners can deliver, and how they can operate, taking into account the momentum of collaboration across departments and between stakeholders that this crisis has created.

All parties must still connect and engage to share ideas, propositions, visions and learnings, and while in the short term none of us can rely on the usual methods such as face-to-face meetings in offices or at industry events, FTE is certainly committed to keeping the industry connected through these testing times and we have launched a new series of webinars and virtual events to support this effort.

Ultimately, airports and airlines must take action now to help secure consumer confidence and ensure they are well placed when the demand for air travel inevitably returns.
Article
source.