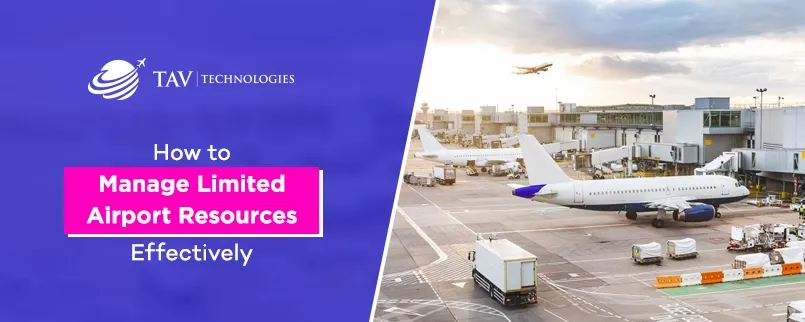 Airports are complex living environments with ever-changing situational cases and various dynamics. It is very challenging to maintain smooth operations and passenger flows in such places with a wide variety of tasks and yet, limited resources and capacities. However, increasing the quantity of those resources is expensive and/or time and space-consuming. Failing to manage limited assets causes delayed operations, poor passenger experience, and revenue loss for airports and airlines. Well, it is costly!
That's why efficient planning of the existing resources and using them at their maximal extent are fundamental for successful airport operations.
But first, let's have a look at the types of resources at a typical airport.
What are the Key Resources at an Airport?

There are different types of resources at a typical airport, including:

Aircraft stands
Gates
Check-in desks
Carousels
Chutes
Those resources are not limitless. They are commonly and sometimes concurrently used. The successful analysis of the resource demand, traffic, allocation situation, and efficient resource planning are the keys to the optimum and efficient use of the resources.
The best way to achieve this is to adopt a well-structured Resource Management System (RMS).
What is Resource Management System (RMS)?

Resource Management System is a web-based solution designed to manage and allocate various resources used for airport operations. The RMS software tool is designed to seamlessly connect airport resources thanks to the different modules covering every aspect of airport operations and enabling efficient deployment at the right time and place.
Implementing a Resource Management System is critical for the efficient use of airport resources and smooth airport operations. Some of the key benefits of the RMS system are:

Optimizing the use of the resources
Reducing operational costs
Increasing airport revenues
Maximizing airport capacity
Increasing punctuality, reliability, and passenger satisfaction
Identifying possible bottlenecks
Generating new revenue opportunities depending on peak / off-peak times
What is TAV Technologies Resource Management System (RMS)?

TAV Technologies RMS has advanced optimization capabilities and a smart rule management functionality that can define rules based on pre-determined criteria, prioritize them, and provide suggestions.
The system has the following modules that can be implemented individually or all together:

Stand and Gate Management
Check-in Desk Management
Carousel Management
Chute Management
TAV Technologies RMS is a web-based and cloud-enabled tool that optimizes airport operations and increases airport revenues. The system reduces manual interference and increases automation and smart allocation of airport resources to maximize the use of higher-value resources. It is possible to structure processes and rule sets for daily and seasonal operational periods. What is remarkable is that all these can be done from a single interface for multiple airports!
The RMS system has various vital features responding to airports' different operational scenarios.
Some of the key features are:

Seasonal planning
Resource Status Management
Advanced Decision Support
Intelligent conflict management
Real-time apron view
Customizable user interface
To learn more about the key features of the TAV Technologies Resource Management System, visit here.
If you would like to learn what else TAV Technologies can offer for perfection at your airport operations, get in touch with us.