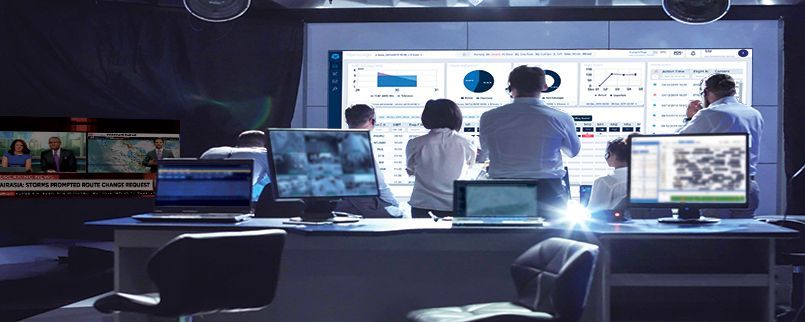 Airport facilities rely on many specialized systems to manage airport processes. TAV Technologies has vast experience in providing design and solutions; implementing and managing integrated communications & networking environments for organizations of all airport sizes. As monitoring the infrastructure and ensuring business continuity is vital in aviation, we build a secure and reliable network that matches airport business needs and operates the network, communication, and information technologies infrastructure.
Airports depend on Network Operation Centers to ensure uninterrupted operations. TAV Technologies - Network Operations Center is the company's 24/7 operating department that deals with monitoring, management, and maintenance of the entire network systems belonging to company sites. The operation never stops at NOC, maintaining a 100% uptime of the whole organization's infrastructure.
Working Model of TAV Technologies Network Operation Center (NOC)
TAV Technologies - NOC consists of specialists working as a team in different variations of shifts and keeping the focus on the well-being of all operated sites. This is accomplished by continuous monitoring of networks in all company locations and troubleshooting wherever possible.

Sites and technical teams from different levels are contacted and orchestrated by the NOC team in cases of advanced level support requirements.



The Network Operations Center specialists are equipped with the necessary skills to monitor, report, track, troubleshoot, document, and escalate alarms, threats, and technical issues in the fastest way possible. The team informs other teams proactively for preventing possible issues that may arise on airports' networks. Proactivity and teamwork are values of the team to ensure continuity of airport operations.

As being the orchestrator and a bridge between operated sites in different countries & technical teams, the Network Operations Center acts as an ambassador.

In the middle of all those dynamic processes, never sleeping operations, and fast actions; the most important and strongest tool that TAV Technologies NOC always uses is communication.