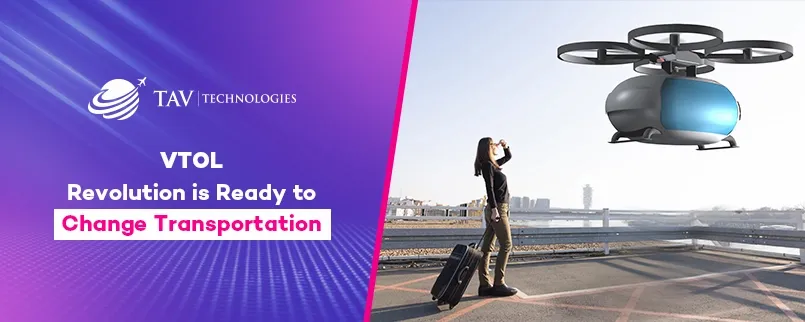 Flying cars have filled our thoughts for decades – from the 1960s animation The Jetsons, to 007's airborne antics in The Man with the Golden Gun, futuristic sci-fi flyers in Minority Report, Demolition Man, and Total Recall.

Flying cars may not be new in fictional minds but they will soon become a reality. Vertical take-off and landing (VTOL) equipment will soon enter our aerospace ecosystem and provide planners of airport infrastructure and airspace with new challenges. Like public transportation, taxis, cargo facilities and more, VTOLs must be incorporated into airport master planning.

VTOL Revolution: How New Technologies are Changing Urban Transportation and Logistics
Thirty major aircraft manufacturers and technology start-ups are currently lapping up investment to develop VTOL equipment that will move passengers and time-sensitive cargoes from an airport to city centers or production facilities, flying freely over congested urban road and rail links. These VTOLs can use spinning rotorcraft technology to take off, hover and land vertically, without the need for lengthy runway capacity – just like helicopters and drones – to offer unmanned aerial taxi services within cities or shuttles between urban centers and major hub airports.
They may provide longer-range services between cities and urban centers or for carrying time-sensitive cargoes to production facilities. Electric vertical take-off and landing aircraft, called eVTOLs, are also being developed alongside autonomous flight control technologies and mobility-as-a-service (MaaS) products to potentially replace on-demand air taxi services, regional air mobility, freight delivery, and personal air vehicles.


VTOLs Set to Fly

Singapore and Paris are among cities vying to lead the way – the latter itching to realise vertiport terminals for transporting International Olympic Committee (IOC) members, officials, competitors and spectators to venues at the 2024 Summer Olympic Games. But are our skies ready for the challenge? What are the barriers for operators to overcome? And how can airports meet this new challenge?

Helicopters and business aircraft have been incorporated into major hubs for many decades, and there's an obvious inter-modal benefit for adding VTOLs now. Passengers will soon demand seamless connections for VTOL transfers at aviation hubs to speed them onward in time-saving solutions against existing modes of transport.


The Technological Challenges Facing VTOL Airport Operators

Integrating VTOL facilities into existing airports or building Veriports from scratch requires similar facilities to conventional airports for passenger and cargo processing and operations. However, introducing VTOLs poses new challenges, particularly for unmanned air taxi technology, as safety and securing air traffic and airport management is a top priority in the aviation industry.

For VTOLs to succeed at scale, our airspace systems must seamlessly interact with multiple VTOL vehicles, not just through on-the-ground operations, but also for route planning, congestion resolution, re-routing, and contingency management. Advanced communication technologies such as 5G connectivity and new AI technologies will be essential to achieve this.


Ensuring the Safety of VTOL Operations at Airports

To ensure the safety of VTOL operations at airports, dedicated space for Vertiports is needed to avoid any disturbance or threat to existing aircraft operations on busy and congested airside aprons. The principles for safe VTOL operations are similar to those for heliports or business travel facilities within commercial airports. These include safe landing areas with proper separation, clear taxiways, safe ground handling, baggage systems, and refueling facilities.

Vertiports require clear air routes that fly away from and safeguard existing commercial and private aircraft flight paths. Autonomous VTOL aircraft will need static and mobile routes, using cognitive systems and AI to identify route barriers, such as buildings and power lines, while airborne and suitable landing sites for arrival. Technological development will be essential for the adoption of VTOLs. Artificial Intelligence can lead the way in ensuring the safety of operations in the airport and during their progress from point A to B. Integration of VTOLs into airports warrants a whole new rulebook. Still, lessons can be learned from similar airport challenges of the past.


A Long and Complex Road Forward
The emergence of VTOL technology is an exciting development for the future of transportation and logistics, but it also poses significant challenges for airport and airspace planning. As the demand for seamless connections and time-saving solutions increases, incorporating VTOLs into airport master planning becomes necessary. However, to ensure safe and efficient operations, there are technological and regulatory hurdles to overcome. With 30 major aircraft manufacturers and technology start-ups already investing in developing VTOLs, this technology is set to transform how we travel and transport goods.