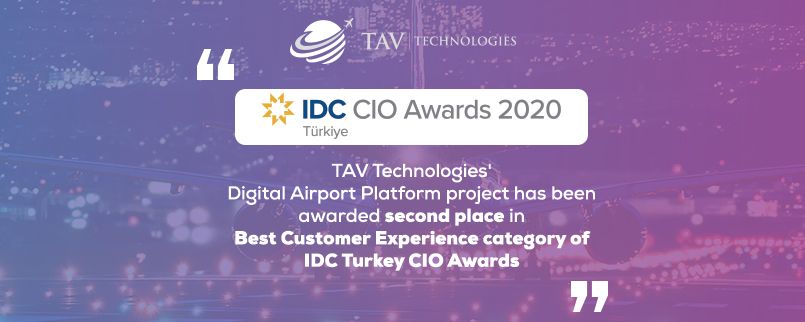 TAV Technologies' Digital Airport Platform (DAP) project has been awarded second place in the "Best Customer Experience project" category of International Data Corporation (IDC) CIO Award Program. DAP is a digital platform designed with a modular approach that offers the services needed by the passengers at the airports and its surroundings. The platform prioritizes the passenger experience and can be easily adapted to airports covering all channels.
The IDC CIO Summit 2020 organized by the Turkey office for the eleventh time. The summit was held online and gathered together global analysts, market-leading vendors, and 500 of the region's most influential leaders.
TAV Technologies General Manager Kerem Öztürk stated that "The pandemic has accelerated the need for smart airport solutions all over the world. Our solutions provide fast and comfortable travel experience, especially contactless technologies help to minimize security concerns of passengers in this period. Our solutions also ensure the efficient use of resources by strengthening cooperation between stakeholders and airport operators. The products and solutions we have developed as TAV Technologies are used in more than 30 airports in twelve countries on three continents today. This award from IDC is also valuable for us as it is given to a platform that we have developed with our resources."