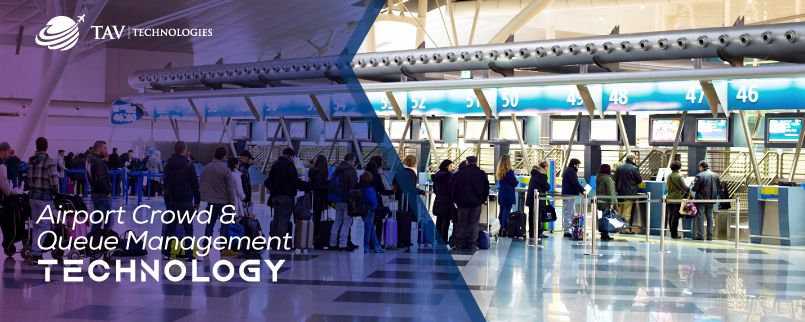 With COVID-19 lockdowns beginning to ease, many standards and new functions of the airport will be automated in order to drive efficiency and minimize human contact. Passengers can expect new technologies and increased touchless check-in and security processing, symptoms screening, heat maps to maintain social distancing. Regulating passenger flow through the airport, ensuring social distancing during operations, avoiding crowds and the over occupancy of areas (check points, boarding, lounges and retail), while still leaving enough time for each passenger at the airport without pressure or risk of crowds, will become a key requirement for airports.

Airport Crowd & Queue Management technology

As airlines start resuming flights, airport operators face new challenges in minimizing personal contact, reducing crowds, limiting common access to high-touch surfaces, and preventing terminals from becoming potential virus breeding grounds.

Crowd management solution allows airports to monitor crowd density in queues and spaces across a terminal, enabling airports to take action if social distancing limits are at risk of being breached. This kind of solution uses Internet of Things sensors, 3D cameras, machine learning for people-counting and understanding density in queues, and smaller areas such as escalators, stairwells to give a detailed view of how passengers move through the airport space. The collected data will generate live heatmaps and dashboards that show the current density situation, triggering tailored alarms, and automated actions if density thresholds are exceeded. The collected data will also provide real-time recommendations to limit crowding in specific areas. On the other hand, queue management solutions will reduce the risk of infection by controlling the number of passengers within the airport space and avoiding bottlenecks. It will also help airport operators improve operational planning decisions – such as where and how to deploy their staff, dynamically increase the capacity of their check-in, security, immigration processes and provide all of the most important line metrics in a way that operators can see in real-time what the status of the line is.

What a successful queue management system can provide:

Up-to-date wait times for passengers
Predictable wait times
Real-time alerts
Better staff allocation
Maximize passenger flow and increase efficiency




How does Queue management improve passenger experience?
Organized queues that enhance passenger experience and minimize any frustration that staff members experience will also improve operational planning decisions – such as where and how to deploy staff and dynamically increase the capacity of the check-in, security and immigration processes.

The queue system will help passengers diffuse tempers and anxiety about being pressed for time when catching a flight, by displaying the estimated wait times in real-time on digital screens within the airport, within a terminal, or a queuing area so that passengers are informed accurately about their wait.

The system will collect historical data of previous queue length and queue processing time to predict a queue processing time for all passengers. The predicted queue time may be directed to the real-time feed to inform passengers what their average waiting time is.

This sets an expectation for passengers to foresee how long they will need to wait in a line and will also provide the busy and slow times of a queue at any particular day and time with solutions whether that means opening up new lines, adding more service agents or adjusting a queue's configuration. The System will detect passengers automatically when they approach the queue area. This offers operators a chance to know at any moment how many people are queuing and to redirect traffic easily to other shorter queues when necessary. This will then directly translate to increase passengers' satisfaction. Operators will be able to determine what is the longest queue and the amount of waiting time for passengers in a certain queue and they can positively enhance the passenger experience.

Main benefits of the queue management systems:
Social distancing by reducing crowds and minimizing personal contact
Better management of wait times in queues throughout the airport
Reduce passenger stress
Optimize airport resource utilization
Improved passenger experience
Reduce operational costs
Enhance security by preventing the spread of the virus
Although it may take a while to renew public trust in airports, people are eager to travel again, which means that airports will once again be busy. In order to ensure health and safety, and to provide a great experience for passengers, technology solutions for every aspect of a traveler's journey, from arrival to departure need to be implemented. It also means protecting all employees working within or around the airport. By using the right technological support, reducing crowds and lineups, airports and travel can be more secure during and after the pandemic. TAV Technologies supports airports to improve their operations and enhance the passenger experience in the new normal with its wide range of solutions, including the queue management. Our solution has an exclusive feature set, including the following features and many more.

Augmented reality (AR): Thanks to the AR feature in the application, the waiting times, and the number of passengers in the queues can be seen on the camera by virtual reality.
IOS / Android Client application: Real-time information and notifications can be received with the platform's mobile applications.
Siri integration: When Siri shortcut is defined, real-time density information can be learned by asking Siri any time.