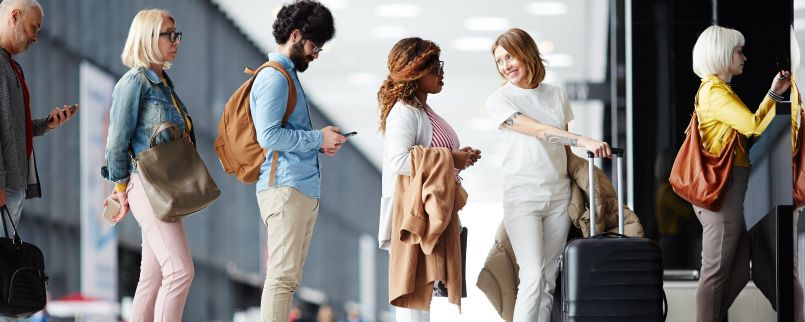 For many, traveling is an exciting experience, but nobody likes the most stressful part of this experience the crowded terminals, long lines, and queues congestion. For airport operators, it is extensive to ensure staff is correctly deployed, gauge the flow and number of passengers through processes and deal with unforeseen events, like flight delays or severe weather conditions, in order to make proactive decisions, timely updates, and efficiently process passengers.

Airports are scrambling to make those inevitable queues move faster and keep process quickly, seamlessly, and efficiently through the entire journey from check-in, through the passenger terminal to the arrival process, to deliver high-quality service and an exceptional passenger experience.

TAV Technologies Queue Management System

At TAV Technologies, we understand how stressful the airport journey can be for many people, we always seeks to develop smart solutions to help airports optimize passenger processes and manage the flow of passengers to avoid increased queuing times and bottlenecks.

TAV Technologies queue management system, use 3D depth-sensing technology and efficient algorithms to detect passengers the moment steps inside queue area at every step of the passenger journey to provide passenger and airport operators with an easier way to identify the queues wait times and queues lengths.

Our solution covers every step of the passenger journey and all the assets within the airport.


Why TAV Queue Management System?

TAV Technologies queue management system live data help passengers to know how many people are queueing and predict their waiting time. Thus, passenger can plan their flight more efficiently and estimate how much time they can spend in shopping or entertainments after security clearance. It also helps airport operators to determine queues status, and the amount of waiting time for passengers in a certain queue to have the right number of staff available in order to efficiently process passengers, or redirect traffic if necessary. While historical data can offer better way for staff deployment planning, optimize available resources and improve service design.


TAV Technologies Queue Management System Benefits

TAV Technologies queue management system helps airport operators to overcome challenges such the increasing security requirements and the new safety measures. While also providing high levels of customer service to passengers.
Slash long wait times.
Improve staff & passenger satisfaction.
Real-time monitoring.
Boost staff productivity and operational efficiencies.
Optimize costs & resource utilization.
Ensure a seamless customer journey.
Measure peak times and seasonality.
Making the right decisions

An effective queue management system such as TAV Technologies Queue Management System with its highly intelligent algorithms provides dashboards with multiple types of live views provide in-depth detail including real-time visibility of passenger flow and overall statistics about queues. Analyzing this helpful real-time information can help airport operators to improve resource allocation, ensure their resources match passengers' traffic and needs, and create a low-stress experience for passengers.

TAV Queue Management Platform's Dashboard Module is configurable for each user and displays real-time information.