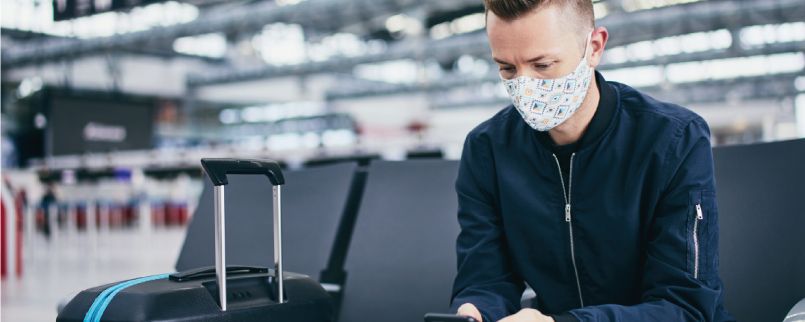 With the rapid global spread of the new coronavirus Covid-19, a dramatic impact affects all industries including the air travel industry as passenger traffic has reduced to a trickle in the wake of the public's fears of infection.

Executives across all industries are reviewing business strategies and procedures to lead their business through and after the crisis. This will establish a new normal where operational cost efficiencies, and health as a key elements of a safe and secure journey from departure to arrival.

Winds of change
The impact of COVID-19 pandemic on the airport sector has been overwhelmingly deep. Passenger traffic is expected to decline by almost 40 percent, as per the aviation industry experts the new smart technologies solutions will be an effective tool in the future to reduce the spread of diseases, recover passenger traffic and bring back customer confidence.

In fact, the majority of airlines and airports were already planning major digital transformation projects before the COVID-19 pandemic. After the heavy hit airports across the world are going to have to look at every process and step of the passenger's journey through the airport and make faster moves using the new technologies solutions such as thermal imaging cameras to detect and measure the body temperature of passengers, Baggage management systems, facial recognition technology, biometrics, self-check-in, self-baggage drop, robotics, and many other technology solutions being deployed widely, to limit physical contact between people and surfaces and reduce the chance of any new infection spread.

Touchless travel solutions

Airports will need more efficient processing, to avoid passengers crowding into areas, and more touch-less processes, to avoid the spread of infections.

As part of the move to touchless travel, TAV Technologies Mobile App effectively supports touch-less processes and contributes to the operational efficiency and passenger satisfaction, TAV Mobile App offer a great opportunity for airlines and airports to engage directly with their passengers and provide efficient services throughout the journey. By providing turn-by-turn navigation travelers can easily find the terminals, gates, shops, restaurants, flight information, get notifications, and many other airport services they need, which could reduce the physical contact between airport staff and passengers.

TAV Mobile Application

TAV Mobile is the first and the most innovative Airport Mobile Application, which is supporting multiple airports.

The user-friendly interface provides first-time visitors and air travelers up-to-the-minute information about flights (including arrivals and departures, delays, cancellations, gates, and baggage). Moreover, additional features such as augmented reality, indoor navigation and interactive smart zone with extensive content provide a smooth airport experience for passengers by helping them to plan their travel better and save time

Key Benefits
Drive interactivity and improve passenger relations
Enhance passenger experience and engagement
Provide information that is more relevant for the passengers
Add prestige to your airport while you interact with your passengers in the most innovative way possible
Communicate discounts, promotions, and coupons
Create opportunities for upsells
Increase customer loyalty
Increase commercial turnover and profitability of your operations by effective usage of proximity marketing through TAV Mobile
A multi-lingual solution across numerous airports
Smart App for Smart Airports

Reduce the physical contact at the airport

Without any physical contact between passengers and airport staff TAV Mobile APP, allow the airport to significantly enhance customer service by providing real-time and accurate information about flights, parking, ground transportation, and other services offered at the airport. The following are the main features.
AUGMENTED REALITY

An augmented reality system generates a composite view for the user that is a combination of the real scene viewed by the user and a virtual scene with additional information.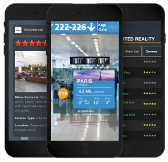 Passengers, by using their device's camera, can scan their surroundings; the augmented reality mode illustrates points of interest in the terminal on-screen – such as shops, cafes, restaurants and gates and how far away they are. It also allows passengers to see how other users have rated the stores and F&B outlets. Passengers will be able to hold up their phone to get directions to their gate.
TRANSLATOR (LANGUAGE ASSISTANT)
The Language Assistant is helpful for passengers who do not know the local language spoken at the airport. The Translator function contains so many helpful words under different categories. The passenger can use the speech assistant on their mobile phones by clicking the voice buttons next to the word. In addition, they can see the translated content under words.
FLIGHT INFO / FLIGHT ALERT / PUSH NOTIFICATIONS
Manage your time effectively by being informed immediately about the departure and arrival times of the domestic/international flights of all airlines through this section. In addition, you can add your flight as alert to be informed about recent status by push notification.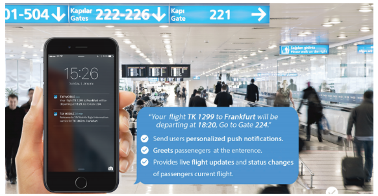 Live flight updates on arrivals and departures for single or multiple terminals of the selected airport
Real time flight tracker
Display real time weather forecast and sunset & sunrise timing for selected flight
Include some tips for passengers to reach their flight easily based on the flight remark
Having a mobile app means allowing your customers to explore and finish their travel cycle at their own convenience and make their journey easy and happy with the minimum physical contact at the airport.